The neighborhood of City in a section of London located centrally with in the confines of the larger city, which is defined by its Middle Ages wall, which was built to protect the city. The City section is not one of the most popular residential areas within the city but is one of the chief areas for tourism and business so finding a well located accommodation within the City or near the neighborhood can make London a walk able city.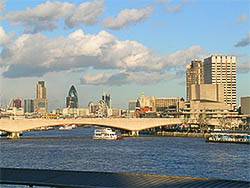 The area of London, City:
The City of London houses the London Stock Exchange, as well as many other banking interested including the Bank of London. There are several high-rise buildings within the City of London including Tower 42, the Swiss Re Tower and Lloyds building, which houses Lloyds of London Insurance. In addition to having many business interests the City of London has the Barbican complex which was built during the 1970's and 1980's and housing, multiple performance venues and several restaurants.
Some of the top tourist sites in London are within the City neighborhood of London including The Museum of London which features historical exhibits about the city as well as remnants of the original wall surrounding the City of London, and the Tower of London located along the banks of the Thames River. Also popular in the City section of London are visits to the Bank of London.
Subway service in the area is excellent because of the central location. Almost every line is with in a short walk of the neighborhood and connections to other lines are generally just a few stops away. Service to Paris is available via the Eurostar, which departs from Waterloo station a one-stop trip from City.
Several options are available in and around London City including:
· A modern 1 Bedroom Accommodation in City – Islington (LN-447), located 10 minutes walk from London Bridge Station, providing easy access to North, East, South and West London without having to change lines.
· This bright Studio Furnished Apartment in City – Islington (LN-129) with a very nice roof-top terrace available to residents.
· Or this comfortable City – Islington Studio Apartment (LN-286) near the Liverpool Street tube station
When visiting London consider the City area for its convenience to offices and tourist attraction as well as its easy access to transportation networks. New York Habitat's London Corporate Housing and Relocation service is the perfect option for finding a specific accommodation in the area.