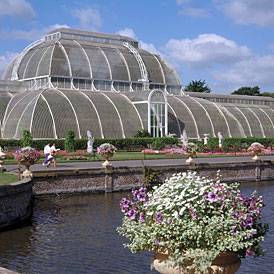 London is known as one of the great cities in the world for its architecture, great subway system and its parks. As for the latter, most people are familiar with the famous Hyde Park located in central London, but far fewer have visited the much larger and more spectacular Kew Royal Botanic Gardens located in the Richmond neighborhood of Western London.
Kew Gardens is a UNESCO World Heritage Site, which incorporates thousands of species of plants into its 300-acre property. The land includes a frontage on the Thames River at the north and gently sloping hills in the southern section. Some of the highlights on the property are the glass houses, which contain unique species from around the world. There are walking trails around the park that lead to the different buildings and museums and showcase the variety of native plants on the grounds. Another highlight is the Cedar Vista, which offers an unobstructed view of the Thames River though a forest of cedar trees from the giant Pagoda at the southern corner of the park. If you have a tip about your favorite places in Kew Gardens, feel free to post a comment below.
If you are interested in finding an apartment near Kew Gardens, consider staying in a London accommodation the luxurious Richmond area where beautiful single-family homes and multi-family row houses can be found.
Some of New York Habitat's offerings in the area include a two-bedroom rental in Richmond (LN-768), offering easy access to the Gardens.
You will also find this two-bedroom Furnished Apartment (LN-922) in the area, that can accomodate up to 4 people.
Kew Gardens is convenient to downtown via the District Line or the overground line to the Kew Gardens stop. The journey form the city center is about 30 to 45 minutes.
So, on your next journey to London, take a ride to one of the world's greatest botanic gardens, Kew Gardens, and remember to check out New York Habitat for all of your London apartment rentals needs in the Kew Gardens area.