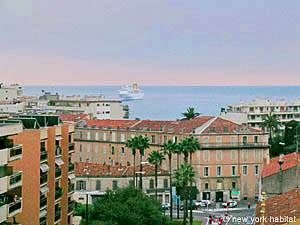 Topping our list of the top destinations in the South of France is the city of Cannes, which, 150 years ago, was nothing more than a small fishing town.
Today, Cannes and all its attractions has becomes a hot spot in the French Riviera. Attracting visitors from all over the world, the city has become the 'star' of the South of France.
Every year Cannes hosts many world-renowned festivals and shows such as: the Cannes Film Festival, the Cannes Boat and Yacht Show, the Cannes Lions International Advertising Festival, and many more.
Most known for its picture-perfect port, Cannes boasts miles of sandy beaches from which visitors can look out onto the blue of the Mediterranean Sea. Fishing boats and pleasure yachts float side by side, both contributing to the cultural and economic influence of the city.
New York Habitat has some great vacation rental available in the trendy city of Cannes, French Riviera:
· This Alcove Studio in Cannes (PR-709), with a balcony facing  the building garden with palm trees and a swimming pool, and offering views of the Mediterranean Sea.
· This Three-bedroom apartment in Cannes (PR-737) that can accommodate up to 6 people.
To recap the countdown here is a full review:
New York Habitat has taken care of the hard part. All you have to do is pick your favorite towns, book an apartment rental in the South of France, and enjoy a fantastic vacation in Provence, the French Riviera or any where else in the South of France. Don't forget to send us a postcard.
Are there any towns that you think should have made the list? Tell us about it below. And for more travel tips about the French Riviera, check our blog regularly for updates.