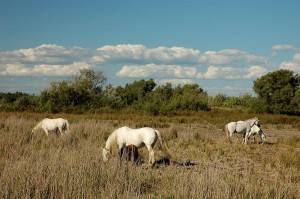 The South of France may not be known as cowboy country, but indeed the area known as the Camargue is full of horses, bulls and those who breed them. Aside from its ranches, this area is particularly interesting because Camargue, a huge nature reserve, is actually an "island" enclosed by the Rhône and the Mediterranean, giving the land its characteristic salt marshes and rice-growing fields.
Staying in New York Habitat's 3-Bedroom accommodation in Arles, Camargue (PR-915) puts you right at the door of this incredible natural land. This apartment is available for weekly rentals, and is an excellent place for up to 6  people to stay while discovering France's "Blue Coast." And luckily for you, Arles offers plenty of attractions for your fun.
You'll find this apartment in the middle of the historic center of Arles. It is on three levels and has a balcony overlooking an ancient roman arena. Its traditional features are an undeniable plus as could be able to boast about your exotic stay.
Another good pick would be this studio rental in Arles, Camargue (PR-1024) in the center of the city, on the ground floor of an old house, and overlooking  a courtyard and a quiet street.
Staying in a vacation apartment right in the town of Arles is a definite advantage, since there are sights you would not want to miss: Saint-Trophime church and cloister, the 10th century Montmajour Abbey and the Roman Amphitheater are all vestiges of this former capital of Roman Gaul. The town also has no lack of cafes, restaurants, bakeries and shops as well as streets to stroll.
Travelling to the South of France, to Camargue, you're likely to spot black bulls and wild white horses, and birds—pink flamingos, herons and egrets—among the salt marshes. As a UNESCO Biosphere Reserve, the wildlife here is prolific and many areas lie untouched by man. Tour companies give jeep or barge cruises or you can ride on horseback through the plains. The ranches in the area also give tours where the "gardians," or cowboys, teach groups about ranch traditions.
Arles and the Camargue are both unique in their traditions, nature and history. New York Habitat's vacation rentals in Arles, Camargue give insider access to this "wild" slice of France.