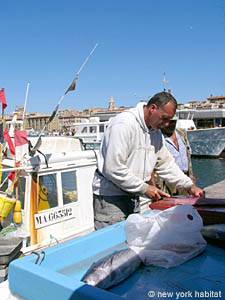 Marseille, the third largest city in France, is often overlooked by tourists for no good reason. It may not have the glamour and romance of Paris, or the gastronomical reputation of Lyon, but Marseille is a fabulous city in its own right. And with your own Marseille vacation rental from New York Habitat, you can discover this for yourself.
Founded in 600 B.C. by the Greeks, this oldest city in France has served as a major port for all those who have controlled it. Today, it still serves as a major commercial port for France, and a stop at 'le vieux port' to watch the fishermen in action is a must. On a clear day, you'll also be able to see the island castle Chateau d'If, where Dumas' Count of Monte Cristo was exiled. You can also visit the island if you wish. There are also many museums, displaying everything from Roman relics to works by Picasso. Sports fans will definitely want to take in a fooball or rugby game at the Stade Velodrome in Marseille. The local team, 'Olympique de Marseille' is one of the biggest and most competitive teams in France. Even walking through the city itself is enjoyable, especially for film buffs, who may recognize backgrounds from "The French Connection" or "The Bourne Identity".
Marseille also has a rich culinary tradition. The fish soup 'bouillabaisse' is a renowned dish of the region. Due to its Mediterranean location and climate, you'll also find many dishes that you might associate more with Italy, such as aioli and olive tapenade. And with your dessert, enjoy a glass of 'pastis', the drink of choice in the South of France.
We hope all these travel tips about Marseille convinced you that this city is a real jewel for the travellers.
By renting your own furnished vacation rental in Marseille, you'll truly be able to get a taste of life in this great city.
For example, this 1-bedroom vacation rental in Marseilles (PR-1048) is perfect for small groups, as it can accommodate up to 4 people. Located on the last floor of  a townhouse, this place definitely beats staying in a hotel as your very own terrace widely separates the living room and the bedroom, while offering a direct exposure to the glimmering sun. Located on the notorious street of "La Canebière", this apartment is only 500 meters (0.3 miles) from the Vieux Port.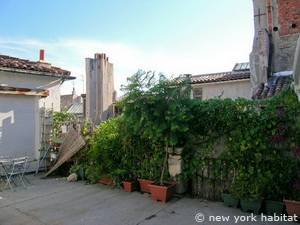 South France Accommodation: 1 Bedroom Apartment Rental in Marseille, Provence (PR-1048)
If you need a little more space, consider this
2 bedroom Vacation Rental in Marseille (PR-824)
. This apartment, located in the heart of Marseille right near the Palais Longchamp. This 19th century building is home to two museums and is a local landmark thanks to its beautiful architectural  details.  
After a full day of sight-seeing, or relaxing by the Mediterranean, you'll enjoy coming back to this warm, cozy home.
Don't rule out Marseille for your next vacation. You'll find all the amenities of a large city, mixed with the joys of coastal living, without the crowds of tourists. And with a furnished apartment in Marseille from New York Habitat, you'll feel like a more than just a visitor.
Have you been to Marseille? Do you have a favorite café or restaurant in the city? We invite you to share your recommendations in our comments section below.