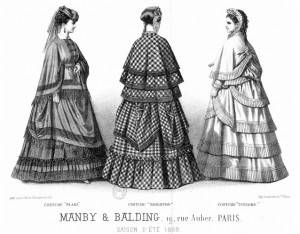 Earlier we learned about another Paris Hidden Gem Museum known as Le Musée Monnaie.
New York Habitat wants to help you discover the lesser-known, but still interesting, museums in Paris.  If you think you've seen it all just by going to the Louvre and the Musée d'Orsay, you are highly mistaken!  Last time, we took you to the Musée du Vin, highlighting wine and wine-making, a great passion of the French.  This time, we'll present another of their loves: fashion.  Paris has long been known as the fashion capital of Europe, if not the world and in Le Musée Gallieria, formerly known as the Musée de la Mode et du Costume (The Fashion and Costume Museum), you can seen the evolution of Parisian style.
Housed in a nineteenth century palace owned by the Duchess Gallieria, in the 16th arrondissement, near Trocadéro, Le Musée Gallieria's large collection of over 70,000 items dates back to the eighteenth century.  The collection includes historic dresses worn by Marie-Antoinette and Napoleon's wife Josephine and modern day masterpieces by such noted designers as Christian Dior, Yves Saint Laurent, and Jean-Paul Gautier. The museum also has collections dedicated to undergarments, lace, accessories, and dolls.  Due to the fragile nature of most of the collection, pieces are constantly rotated and shown under different themed exhibits throughout the year, so each time you visit, you are sure to see something new!
New York Habitat offers many accommodations in the 16th arrondissement.
For example, this 2 bedroom rental in the Champs-Elysées area (PA-2989) is not a far walk from Le Musée Gallieria.  Featuring exposed stone and brick, beautiful hardwood floors, and classic crown molding, this apartment is full of French charm.  The open floor plan adds to the apartment's spacious feel.  Past guests have called it a "very nice apartment".
There is also this 1 bedroom rental also in Invalides (PA-2124) and still near the museum.  It also has many wonderful features such as a decorative fireplace and overlooks a private courtyard with lavender bushes and seasonally blooming flowers.
The next time your in Paris, be sure to keep Le Musée Gallieria in mind. This wonderful museum is often over-looked by tourists so you'll be free of the crowds and get to see wonderful samples of French fashion throughout the years.  A vacation apartment rental from New York Habitat will ensure that not only will you learn about French style but that you'll live in French style as well!
Now we will learn about another Paris Hidden Gem Museum known as  Le Musée du Vin
What hidden gem museums would you like to see on our list?  Please share your favorites with us in our comments section.