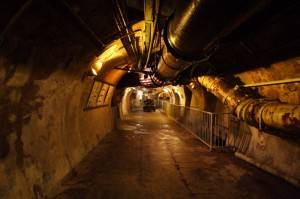 Earlier we learned about the Le Muséum National d'Histoire Naturelle being a Hidden Gem Museum in Paris
Throughout our hidden gem museum series here at New York Habitat, we've taken you to places that encompass the best of French life: wine, fashion, and money.  This week, we take you underground, to see not just a hidden gem museum, but also a hidden side of busy Paris.
Le Musée des Egouts de Paris (The Paris Sewer Museum) is a fascinating little place, dedicated to a public service that we all take for granted. Sewers first came to Paris in the 11th century when King Philippe Auguste ordered that they be installed, though they were above ground and uncovered.  Napoleon introduced the idea of covering them and when Haussmann began his large-scale renovations to Paris in the mid-nineteenth century, underground sewer tunnels were a large part of his plan.  Victor Hugo dedicates a long passage to this innovation in his novel Les Misérables.  Tourists have been visiting the sewer system since its completion, first in carts and boats, but since the 1970's, they have dedicated space, underneath the Quai d'Orsay in the 7th arrondissement, to see the history and stories behind the Paris sewer system.
Since Le Musée des Egouts de Paris is located right on the Seine, New York Habitat accommodations in the 7th arrondissement, near the museum are sure to not only be in a great neighborhood, but also offer fantastic views of the city.
Paris Apartment: 2-bedroom Vaction Rental in Invalides - Tour Eiffel (PA3443)
For instance this 2 Bedroom Rental in Champs de Mars – Tour Eiffel (PA-2914) is very conveniently located just beside the Eiffel Tower. This rental has the advantage of being part of a small amount of apartments where, via the master bedroom, you can catch a glimpse of the Eiffel Tower.
You may also want to check out this 2 Bedroom Rental in Invalides, Auteuil – Tour Eiffel (PA-3443).  This elegant apartment is classically furnished but still includes modern amenities in the eat-in kitchen and bathroom.  Past clients have said that staying here "was like staying in the home of a friend".
The Paris sewer system may seem like the last place you'd want to go on your next vacation but Le Musée des Egouts de Paris is a delightful little museum that deserves a look.  New York Habitat will make sure that your vacation apartment rental is in good working order with respect to this modern marvel.
To read about the earlier entries on our list see: #4 Le Musée Gallieria
We're almost at number one!  Which museum do you think it will be?  Take a guess in the comments section below.
Now we will read about another Hidden Gem Museum and this one is known as  Le Musée de la Monnaie