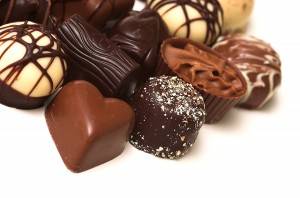 Is there anything more romantic than spending Valentine's Day in Paris? The city's grand architecture and mesmerizing Seine River are natural backdrops for lovers. And adding a chocolate tour to your V-Day itinerary is guaranteed to make your day even sweeter.
Spend the entire afternoon savoring divine chocolate from some of the best artisanal chocolatiers in the world. And since three of the best shops are located in the Saint-Germain-des-Prés, the 6th arrondissement of Paris, it's easy to walk from one delicious store to the next.
Begin your sumptuous tasting tour at Christian Constant, near the Luxembourg Gardens (37 rue d'Assas). The world-class chocolatier, best known for blending chocolate with exotic spices and flowers, has a devout following among chocolate-lovers.  You'll see why when you sample delectable combinations like dark chocolate with ylang ylang, orange blossoms and even earl grey tea.
From there, take a leisurely stroll over to the Pierre Hermé Boutique (72 Rue Bonaparte). Affectionately known as the "Picasso of Pastries," Hermé is one of the most celebrated pastry chefs in the world. Located in the busy 9th arrondissement, the boutique offers delicious pastries, cakes and gourmet chocolates, but no trip is complete without sampling a few of the heavenly macarons. Choose from an assortment of flavors like milk chocolate with passion fruit and toasted hazelnut with white truffle cream.
Once you've managed to pull yourself away from Hermé's addicting treats, it's time to wind down the tour at Patrick Roger's shop (108 Boulevard Saint-Germain). Roger's over-the-top window displays and quirky chocolate sculptures are worth a trip in itself, but the confectionary delicacies are pure bliss. And in case you wanted your chocolate affair to continue well beyond your stay in Paris, Roger offers a box of chocolates over three feet long, filled with pralines, caramels, nougats and bon bons.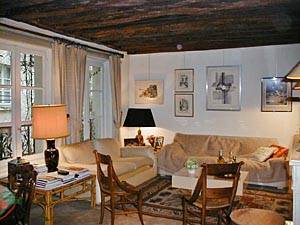 Paris Accommodation: 1-bedroom rental in St. Michel (PA-1899)
Stay in one of the many New York Habitat apartments nestled in 6th arrondissement, and you'll be able to begin the chocolate tour right from your front door. Consider one of these romantic apartments:
A luminous studio rental in St Michel – St Germain – Notre Dame  (PA-3647).
A cozy 1-bedroom rental in St Michel – St Germain – Notre Dame (PA-1899) located just a few meters from the Seine. The apartment's wood-beam ceiling gives off a warm chalet feel — a perfect winter retreat for Valentine's Day lovers.
Visiting so many amazing chocolate shops will make you appreciate the joys of chocolate like never before. Stock up on some of the chocolatiers' creations along the tour so you can enjoy them year-round.
Who do you think makes the best chocolate in Paris? Do you have a store that should be added to the tour? Please share your recommendations with us.