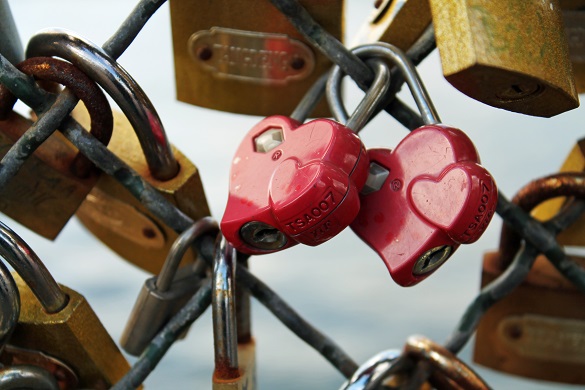 Lock in your love intention at the Point des Arts bridge
Valentine's Day in Paris should be a fail-safe plan for guaranteed romance but some insider suggestions can always take it up a notch. Read on to find our carefully curated suggestions for impressing that special someone, including our most romantic accommodations in the City of Love!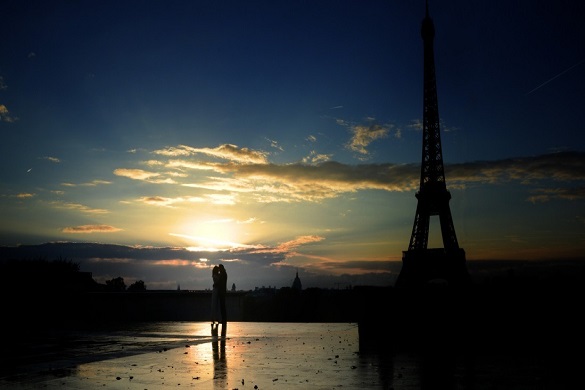 With so many romantic vistas all around Paris is truly the City of Love (Photo credit: Jellio Coe photos)
Montmartre – Unforgettable Views & Charming Strolls
If you're looking for the perfect romantic spot to take in views of Paris, our favorite is from atop the hilly Montmartre neighborhood. Nothing could be more magical on Valentine's Day than admiring the most romantic city in the world from way up high. And once you've taken in the impressive view, discover all the romance surrounding you in the lovely neighborhood of Montmartre.
Stroll your date past the Wall of Love, a 430 square foot (40 square meter) wall in the Jehan Rictus garden square. Created by calligraphist Frédéric Baron and mural artist Claire Kito in 2000, it's composed of 612 tiles with the phrase "I love you" in 250 languages. For more romantic suggestions, check out our blog on the top 10 romantic activities in Paris.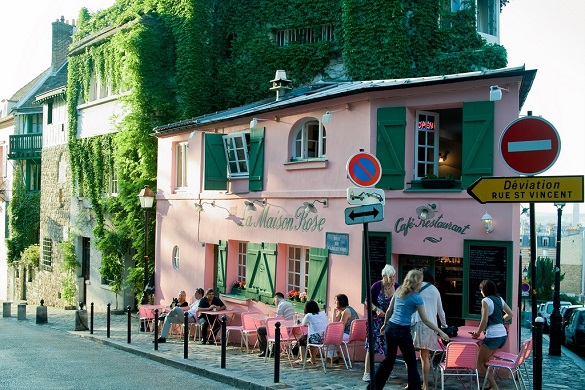 Monmartre has charming streets and quaint cafes (La Maison Rose in Springtime Photo Credit: Yuko Honds)
A romantic meal at La Maison Rose in Montmartre is sure to impress, it's a favorite restaurant among locals here. This quaint, pastel pink restaurant nestled at the top of a hilly Montmartre street is oh-so-charmingly Parisian it looks like a set location straight out of the film Amelie. And did we mention it's pink?
This one bedroom vacation rental in Montmartre is located in a classic Haussmannian building on the same road as the Sacré Coeur Basilica, one of the most iconic landmarks of not only the Montmartre section of Paris, but Paris in general. Inside, this light-filled, modern apartment is the perfect spot to start off your Valentine's trip to Paris. Your date can have an evening drink seated on a barstool at the countertop that overlooks the kitchen while you prepare a romantic dinner for two in your Parisian apartment. Afterwards, take a stroll through this unique section of Paris, with an impressionistic, romantic vibe and infused with 19th century charm and local street artists.
Opera Garnier – A Romantic Evening with the Arts
If you're looking for an impressive and entertaining spot to take your date out to, try Opera Garnier, one of the most famous venues in all of Europe. Its grand Beaux Arts decor with glass chandeliers, sweeping marble staircases and gilt decorations makes it one of the most beautiful buildings in Paris. You can impress your date with your knowledge of the architecture, the bronze and crystal chandelier, the marbles from all over the world in the Grand Staircase, and the frescoes and mosaics in the Grand Foyer. Catch a performance to start off your night then head to an equally romantic dinner.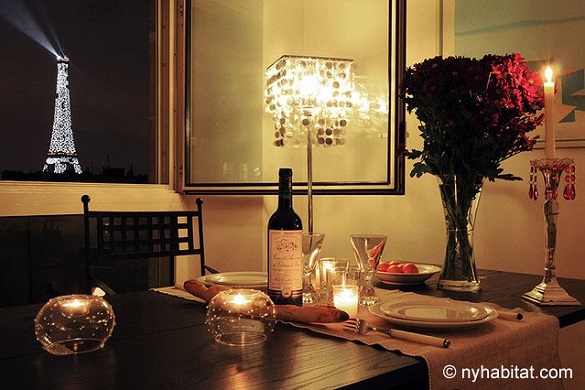 A candlelit dinner with wine, roses and the Eiffel Tower glittering out your window is everyone's dream of Paris
If you're into the opera and theater arts, why not stay close to the Opera Garnier at this cozy alcove studio in Bourse that is perfect for a couple! The ground floor loft-style studio is built like a small house attached to a building with the benefit of not having any upstairs neighbors and a view on a quiet courtyard. This property creatively fits all the comforts and conveniences of a larger apartment into a studio. Equipped with a full kitchen with dishwasher and microwave and a skylight to make it airy and bright, a queen size bed, living room plus additional mezzanine area, and even a laundry machine, it's the perfect little love nest tucked away from the bustle of Paris in a quaint courtyard.
A Truly Parisian Apartment with Eiffel Tower Views
What would win over your beloved more than an apartment in Paris complete with a view of the Eiffel Tower?! Just picture preparing a candlelit dinner for two at this studio apartment in Passy and sitting down to your private view of the Paris icon right from your window! Other luxuries at this gem of an apartment include the marble-lined bathroom and the balcony overlooking the building's gardens in addition to the unparalleled views of the glittering Eiffel Tower at night, for an evening sure to be romance-filled.
Cabaret – An Evening of Dining & Entertainment
For an unforgettably entertaining night out in Paris, you can't miss the famous Moulin Rouge cabaret, birthplace of the can-can. The interior decor still contains remnants of the romance of fin de siècle France. Another top cabaret experience unique to Paris and less touristy than some others is at The Crazy Horse, a combination of nude dancers, magic and variety shows. World famous guest performers here include Dita von Teese, Carmen Electra and Pamela Anderson, so it has definitely got international sex appeal.
Dinner & a Romantic Boat Ride on the Seine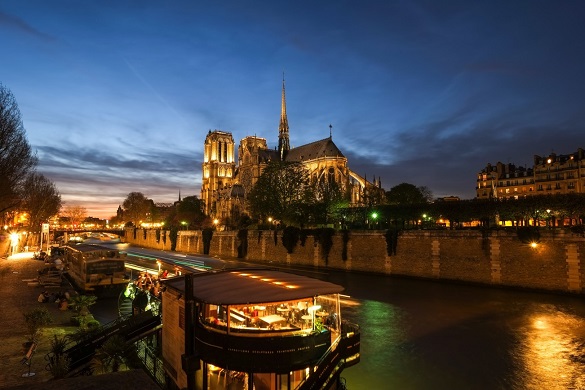 A romantic dinner cruise along the Seine is unforgettable (Photo credit: Nick Harris)
Start the evening off right with a private or group romantic cruise along the Seine. The Dinner Cruise Decouverte Valentine's Day features a special Valentine's Day menu and live music as you take in breathtaking views of Paris.
For a dinner spot your date will never forget, Le Jules Verne, the Michelin 1 star rated restaurant located on the second floor of the Eiffel Tower itself is sure to make even the pickiest of dates swoon. Just be sure to check the required dress code, this place is top notch!
If you're looking for the perfect apartment close to Paris' most famous landmarks, this alcove studio in Les Halles is perfectly situated and classically charming. Located just next to the Hotel de Ville and the Georges Pompidou Cultural Center, it is also walking distance to the Louvre Museum and the adjoining Royal Tuileries Gardens. With all of these great sites surrounding your apartment you're sure to be out a lot, but features like beautiful wood flooring, a decorative fireplace and elegant chandeliers will certainly beckon you back home at the end of a long day of touring.
Fairy Tales & Valentine's Desserts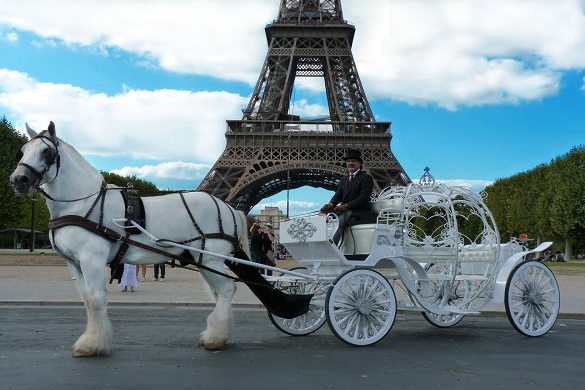 Pick up your princess for a ride in a horse drawn carriage around Paris
Nothing could be more Cinderella-esq than a horse drawn carriage ride through the city. Located close to the east pillar of the Eiffel Tower, Paris Caleches provides horse carriage service and city tours that will sweep any woman off her feet. The journey will take you through the streets of Paris, past the Eiffel Tower, the Champs Elysees, Arc de Triomphe and many more of Paris' most famous locales. Perfect for Valentine's Day, you can customize your ride to include champagne, roses, macaroons, a chocolate heart or fruit basket.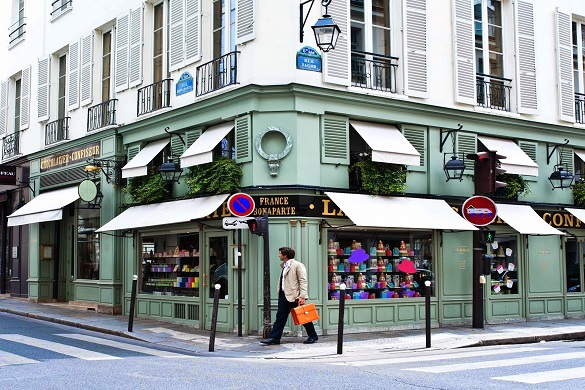 You can't visit Paris without indulging in some French macaroons
When you think of French sweets macaroons always come to mind. If you're into sweets and also a creative type, plan a fun interactive date. La Cuisine Paris offers culinary classes and has a Valentine Chocolates & Macarons Class on Valentine's Day- Tuesday, February 14, 2017, "making two different types of Valentine's themed French Macarons and Chocolates! Everyone goes home with a box of treats perfect to enjoy either for themselves or others on one of the romantic bridges overlooking the Seine nearby!" You can find their class offerings at La Cuisine Paris.
An Evening of French Cuisine
Part of the joy of Paris is its food, and we have a few favorite places to suggest for this special occasion if you really want to make an impression. At the heart of the Gare de Lyon train station is Le Train Bleu restaurant with majestic decor and vintage frescoes. This historic restaurant is where stars such as Coco Chanel and Brigitte Bardot were regulars and its grand interior has appeared in many films. The restaurant serves fine French classics along with an extensive wine list, and boasts a special Valentine's Day menu.
La Bourse et La Vie – a name which is a riff on the expression, "Your wallet or your life" is the new venture of celebrated American chef Daniel Rose with the creative French cuisine that inspired a new culinary movement by young Parisian chefs. If you prefer old school French cooking, Chez la Mère Catherine – Founded in 1793, is an institution of traditional French cuisine and the oldest brasserie located at the place du Tertre.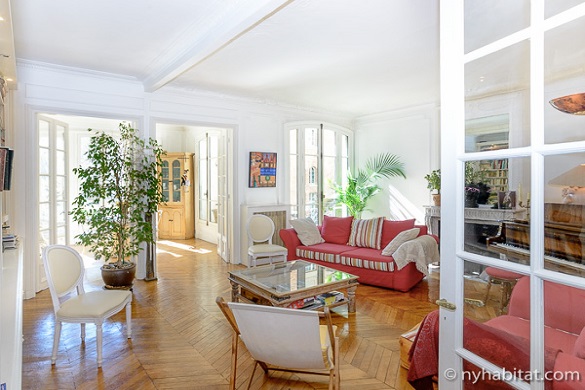 Rent a Paris apartment and try out your French cooking
Sampling some of France's wonderful cuisine is a must on any trip here, but waking up in your own Parisian apartment with a view and breakfast in bed from your own kitchen has a certain "je ne sais quoi" that just can't be beat. This 3 bedroom rental in Luxembourg can fit a whole family or group on a trip to Paris. Its central location between the Pantheon and the Luxembourg Gardens in the 5th arrondissement makes it the perfect starting off point for your Parisian excursions. In this historic heart of the Latin Quarter you'll be close to The Sorbonne, one of Europe's oldest universities, stop for a coffee at one of the cafes that line the plaza here, or take a leisurely walk with your "amour" in Luxembourg Gardens. If you've got the kids tagging along on your romantic trip, Paris' National Museum of Natural History is nearby. Check out our list of 10 things to do with kids during winter in Paris for more ideas to wear out the kids and get them off to bed early.
The spacious, light-filled interior and charm of authentic Parisian features in this apartment, mixed with the modern appliances, gives you everything you need for both comfort and convenience. Bask in the sunlight filtering in from three large bay windows in the sunroom, where you'll also find an elegant decorative fireplace and piano. If you love to cook, you'll be in heaven with the fully equipped kitchen complete with marble topped cooking island with bar stools where everyone can gather for breakfast or a drink in the evening. For a formal dinner there is also an open dining area adjacent to the decorative fireplace. At the end of the day, you'll look forward to retiring to one of the three bedrooms, all of which face the courtyard for a calm, restful space after a long day exploring the city!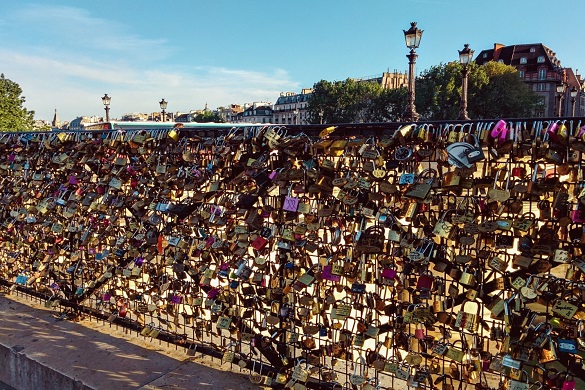 Lock in your love intentions at the Pont des Arts bridge
Last but not least on your trip to the City of Love, a stop to view the Love Padlocks on the Pont des Arts bridge is just too Valentine-y to pass up. Simply write your names on the padlock with a marker, secure the lock to the railing and throw the key in the river in accordance with tradition — just note this is now technically banned (although the tradition seems to continue) so proceed at your own risk or just stop by and take a couple's selfie in front of it instead.
And for those last minute Valentine preparations, a truly hidden gem in Paris for flowers for the special day – Fleurus on rue des Archives between rue des Francs Bourgeois and rue des Blancs Manteaux in Le Marais is recommended by our French colleagues here at the office. If your plan is to grab some traditional cheeses to pair with French wine for a quiet evening in your Parisian apartment, a local favorite cheese stop is Laurent Dubois 97-99 rue Saint Antoine 75004 Paris. And of course, Paris is full of great food markets to pick up the perfect ingredients for a home cooked meal made with love.
So now that you've got our cheat sheet to help you plan the perfect Valentine's Day in Paris, get planning that unforgettable trip for the one you love. We have so many great furnished apartments to choose from, you're sure to find the perfect love nest for your trip with that special someone. Bisous!! XOXOXO
Related apartment rental posts from New York Habitat: