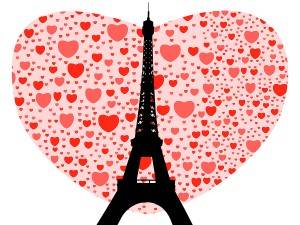 What could be more romantic than whisking away your significant other to a Paris apartment for Valentine's Day? The French capital has long been considered one of the world's most romantic cities and the melange of culture, gastronomy and art in Paris makes it easy to see why. There is something unique about Paris, however, that separates it from other charming European cities. Valentine's Day is one of the best times of year to rent a New York Habitat apartment, when couples take advantage of the freedom and utility of having their own Paris apartment.
Although a push towards the marketing of Valentine's Day in France is certainly on the rise, many Americans in Paris for the holiday find the event much less commercial than it is in the States. The tacky heart-shaped chocolate boxes and balloons are thankfully largely absent from Valentine's Day promotions on this side of the Atlantic.
Many visitors to the city during the holiday find the day to be much more subdued and authentic than in many American cities. Restaurant tables are easy to come by, even in some of the city's top eateries, and florists don't jack up the prices of roses in anticipation of the event. However in recognition of the event Paris' city hall gives lovers the opportunity to send messages of love in one of the city's 170 illuminated message boards free of charge. In addition to posting a message for all of Paris to see, there is no shortage of romantic outings in this city. Couples can ice skate at the Hotel de Ville in the 4th arrondissement, rent a Velib and bike around the city at their leisure, enjoy a candle light dinner in one of the city's thousands of restaurants or cook dinner at home in the comfort of their own New York Habitat apartment. Oh, and there's always the Eiffel Tower, widely considered to be one of the most romantic places in the world.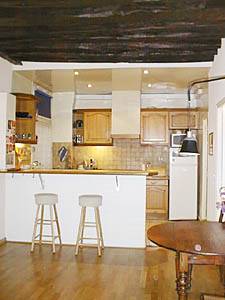 Paris apartment 1-bedroom (PA-1782)
New York Habitat accommodations in Paris go fast around Valentine's Day, below are a few selections to help get your search started:
– This 1-bedroom rental apartment in Marais (PA-3753) features an elegant style, parquet floor, big double-glazed windows  and is housed in a 18th century building.
– This alcove studio in Place de la Concorde – Champs Élysées (PA-3291) features hardwood floors and is located near Rue du Faubourg Saint Honoré,one of the most fashionable streets in the world!
– This 1-bedroom rental apartment in Ile Saint Louis, St. Michel- St Germain- Notre Dame (PA-1782) has an unbelievable location and old-world charms including exposed wood beams.
Why, exactly, do you think Paris is such a romantic getaway? Comment below.