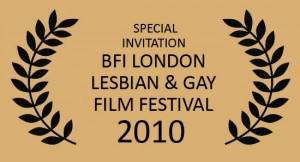 The London Gay and Lesbian Film Festival Logo
Late March sees the celebration of the London Lesbian and Gay Film Festival at the British Film Institute in Lambeth, on the South Bank—a perfect time for chilly nights still best spent indoors. To see a great selection of gay, lesbian, bisexual and transgendered themed films from around the world, book your tickets in advance, stash all of your Cadbury candy treats in the cabinets of your nearby vacation accommodation in London…and don't forget to turn off your cell phones.
The 23rd London Lesbian and Gay Film Festival features films by and about the LGBT community, with screenings that include everything from small-budget independent fare to showcases for big-name talent, the likes of Sean Penn, John Hurt and Catherine Deneuve. This well-attended repertoire is a mash-up of contemporary movies with gay and lesbian themes, alongside classics and more experimental work. (For a full listing of films, go to the British Film Institute Website).
The opening night gala takes place on March 25, and the festival runs until April 8, with spectacular closing night festivities. This event is one of the largest of its kind, featuring dozens of domestic and international features, shorts and documentaries, as well as special events and guests, workshops and discussions, and a family day for children of LGBT parents.
Fortunately for those attending the festival, the BFI is an amazing space in which to experience cinema. Located on the South Bank of the Thames, this modern facility with unparalleled views of London boasts a lobby café, a sleek interior bar, and outdoor seating that you'll want to snatch up on sunny days.
In addition to the BFI, the South Bank is loaded with things to see and do (the Tate Modern, London Eye, Hayward Gallery, Royal Festival Hall, Globe Theatre and Vinopolis, among them) and is a short distance from a fabulous selection of New York Habitat rental accommodations, including:
• A two-bedroom vacation rental in Southwark (LN-528), overlooking the Thames. This accommodation features a large balcony overlooking the River Thames and offering great views of St Paul's Cathedral. This apartment lies on the third floor of a modern elevator building with a part time doorman.
• A charming, sweetly furnished 2-bedroom vacation rental in Westminster-Covent Garden (LN-401) near the Strand, within walking distance of the famous Piazza. The master bedroom of this third-floor apartment has a king-sized bed (rare for London), the second bedroom comes with a walk-in shower room, and the living room has a fireplace. What could be more romantic?
•  A very contemporary, uncluttered and crisply decorated 1-bedroom vacation accommodation in Westminster (LN-429), off the Strand. This apartment, in a period mansion building with elevator, has a double bed and plenty of sunlight, plus smoking is permitted.
Show some cinematic love by attending London's LGBT film festivals—then bring the magic back home to your New York Habitat vacation accommodation nearby in Lambeth.
If you have any favorite LGBT venues in London, let us know with a comment below.