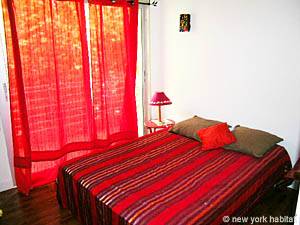 Cannes, France vacation rental: 1-bedroom apartment (PR-916) pic
By the time May rolls around on the French Riviera, it's already beach weather – but the real action is at the Cannes Film Festival, held every year in this normally sleepy beach town in the South of France.  The 62nd edition is from May 13 to 24, 2009 – so, why not rent a New York Habitat accommodation  in the French Riviera and place yourself smack dab in the middle of it all?
We usually only hear about the 20 films competing in the Official Selection, but the Cannes Film Festival is actually comprised of several different sections run by four separate film-based organizations who together screen hundreds of films for the thousands of attendees each year. It is also undoubtedly one of the most fabulous events in the South of France!
So, how do you get in to see a film in the running?  Sadly, you can't! The theater passes for each film are severely regulated and securely held.  In fact, the only non-film industry viewers allowed in are card-carrying residents of Cannes proper and formally organized and accredited film education groups. But, that doesn't mean you can't take your chances hobnobbing with the stars, or angling for a paparazzi shot on the gorgeous beaches!
Luckily for you, we have many vacation rentals in Cannes so you can fully enjoy the festival. Take these two examples:
This 2-bedroom rental in Cannes (PR-916) puts you at the heart of the action – just steps away from the stunning port, the high-fashion boutiques on La Croisette, and the world-famous red carpet at the Palais des Festivals et des Congrès, where the awards ceremony is held each year.  And when you're not out stalking your favorite celebrities, you can whip up a light summer lunch in the rental's new, sleek kitchen and enjoy it al fresco on the balcony.
You can also check out this modern 3 bedroom Rental in Cannes, French Riviera (PR-737). Just a few minutes walk from the "Palais des Festivals", this vacation rental features a private balcony that over looks a communal garden as well as fully equipped kitchen, onsite laundry facilities and a flat screen TV and Wifi.
We hope you're on your way to see what all the fuss is about! But, you might be an old hand at the whole celebrity scene – if you've had a fun celebrity sighting, at the Cannes Film Festival or elsewhere, brag about it in the comments! For more travel tips about the French Riviera, stay tuned on the New York Habitat blog.