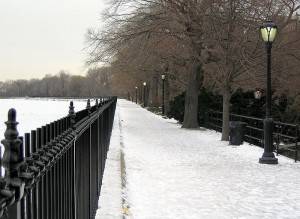 With Barack Obama just winning the recent election as President of the United States, a new chapter has been written in American history, one that is especially important for African-Americans. This February is the time to celebrate all the contributions African-Americans have made to the development and prosperity of the United States as well as the important role the black community plays in America today.  New York City, like the rest of the United States, celebrates Black History Month each February, a period which marks the reflection on the city's proud past on integration as well as times of racial unrest. The folks as Central Park are marking the occasion with events and celebrations for adults, kids and the entire community.
February 10th starts the celebration off with an adult's only event welcoming performers from Harlem's world-famous Apollo Theater. The evening will be marked by the sense of community that has made the Apollo a New York institution; a resident historian will illuminate the theater's story and a winner of the famous Amateur Night will perform for the eager audience. Saturday, February 21st will be marked by a daytime celebration of the African Diaspora through a diverse array of stories, songs and rhythms. And on February 27th the Museum for African Art will hold a special family craft event in the park where kids can mix art, history and social action by taking their best shot at creating a Civil rights poster. The museum is located between SoHo and the Greenwich Village and West Village area. All these Central Park events are completely free and open to the public.
Black history month is the ideal time to explore one of New York's many neighborhoods with a rich African-American past by living and breathing the locale in a New York Habitat apartment. Below are a few Harlem accommodations available this month that give guests a real feel for New York's most famous black community:
– This 2-bedroom rental apartment in Harlem, Uptown (NY-15344) is located on a classic townhouse in the heart of the neighborhood.
-This 1-bedroom rental accommodation in Harlem, Uptown (NY-15017) features a cozy contemporary decor is bathed in afternoon sunlight.
– And this studio apartment in Harlem, Uptown (NY-14821) is seething with the funky and outrageous Uptown style.