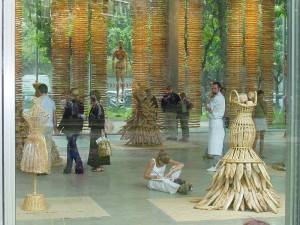 Sure, a trip to Paris would be incomplete without a tete-a-tete with the Mona Lisa at the Louvre, but there are more intimate ways to peruse the art world in the French capital. While the halls of Paris' most renowned museums are teeming with foreign tourists and twinkling flashbulbs, dozens of galleries in the city draw Parisians out of cafes and into the modern art world. Among all of the galleries currently shining in the city of light the Fondation Cartier is one of the brightest. This season, the 14th arrondissement organization turns its focus towards the ideas of native identity and of being rooted, and uprooted. Native Land, Stop Eject confronts the consequences of globalization, where native peoples are constantly threatened with exile and where massive migration has greased the wheels of modernity. The extensive mixed-media exhibit fills its halls with art-loving Parisians and out-of-towners in the know. New York Habitat apartments are filling quickly this winter, but travelers can still find dozens of available apartments in the 14th arrondissement that fill their artistic tastes.
Native Land, Stop Eject focuses around an artistic and intellectual dialogue between filmmaker and photographer, Raymond Depardon, and philosopher Paul Virilio. Depardon's work focuses on explored native lands and the world of farmers, deftly combining both political and poetic considerations. Writer Paul Virilio has spent much of his career toying with the notions of speed, exodus, the frailty of geography and the pollution of distances. The best way to enjoy this offering is by attending one of the Nomadic Nights evening presentations running along side the original exhibit. The series includes film screenings, live concerts and mixed-media presentations that add the joys of an evening out with the already engaging exhibit.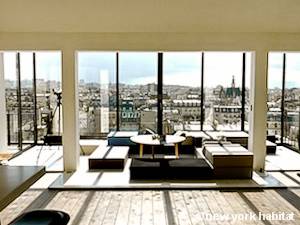 Paris Accommodation 1 Bedroom Rental in Grands Boulevards, Canal Saint Martin - Gare du Nord - Gare de l'Est (PA-4278)
-This 3-bedroom apartment rental in Marais-Les Halles (PA-1516) is situated in an expansive loft space. The decor and design of this accommodation reflects the same crisp modernism found in the galleries of the Fondation Cartier.
-This studio apartment in Saint Germain des Pres (PA-3647) is ideal for coupled in town for a touch of Parisian romance. An elegant decor is accented by hardwood floors and exposed wood beams. Both the kitchen and bathroom have been beautifully renovated.
-This 1-bedroom rental apartment in Grands Boulevards, Canal Saint Martin – Gare du Nord – Gare de l'Est  (PA-4278) evokes the best of modern art in every square inch of its carefully constructed design. Modern art or architecture lovers will not be disappointed with this accommodation.
Let us know what you thought of the exhibit at the Foundation Cartier below.