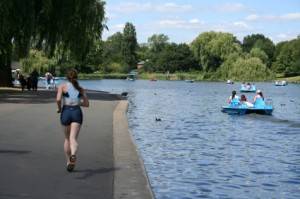 Photo of joggers in Regent's Park
Regent's Park is perhaps the best known and most beautiful of all of London's outdoor spaces, and itwould be a shame to visit the city in springtime without a stop there. While the park provides travelers with a much-needed midday rest, it is by no means a break in the sightseeing action. There are a plethora of things to see and do in the neighborhood, as well as plenty of nearby attractions—and New York Habitat vacation rentals in Regent's Park!
After some shopping on tourist-heavy Oxford Street, visitors to London can start a pleasant and un-crowded walk to Regent's Park north via Portland Place, an architecturally rich street on which the Royal Institute of British Architects is found. (Two alternatives would be Marylebone High Street, for boutique stores and chic cafés, as well as a direct path to the planetarium and Madam Tussaud's, or Baker Street, for all things Sherlock Holmes, authentic and cheap English eateries, and the well-hidden Ray Cochrane Beauty School, which offers deeply discounted massages and cosmetic treatments…a London rarity.)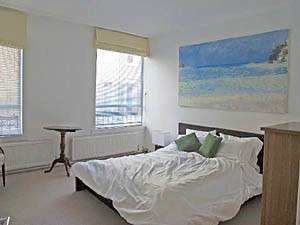 London apartment: 2-bedroom vacation rental in Marylebone, Westminister (LN-422) Photo
Once you enter Regent's Park from the south, head north to Queen Mary's Gardens for a variety of roses, the acclaimed Open Air Theatre, which begins its repertoire of plays in late spring, or the sun-drenched Garden Café. Going east from there will take you to the beautifully manicured Broad Walk, and west will lead you to the picturesque Clarence Bridge and the Boating Lake, full of water fowl willing to pose for pictures.
You still haven't seen anything yet! Head to the north end of the park for acres of football (soccer) pitches and cricket pens, the Honest Sausage café for hearty and healthy snacks, The Hub for exercise classes, children's outdoor activities and a terrace café with pretty park views, the sprawling London Zoo (where fans of Harry Potter can see the spot where he discovered his powers in the reptile house), and St. John's Lodge, one of the few private homes in the park that allows visitors backyard access.
Add to all of that the stately John Nash architecture that surrounds the park, the free guided tours and wildlife walks that often take place, the charming Regent's Canal boat rides and Primrose Hill views of the city to the north, and you may want to consider spending more than a day in Regent's Park. In fact, we suggest staying as close to the park as possible in one of these New York Habitat apartment rentals in Regent's Park, or anywhere throughout London:
•A pretty 2-bedroom apartment in Westminster-Marylebone (LN-422) just off Baker Street and Regent's Park. This second-floor accommodation is near the University of Westminster in a purpose-built apartment block that comes with an elevator and underground parking. This spacious, sunny rental has two bathrooms, two bedrooms with queen-sized beds, a home theatre system, a laundry/dryer and ocean-themed paintings that give it a resort feel. Past clients have raved: "We loved coming home after a tiring day of sightseeing to our 'own' wonderful flat. I would highly recommend this apartment."
•A bright studio vacation rental in Westminster-Bloomsbury (LN-386) on the second floor of a large apartment building with full-time doorman. This rental has a large window to let the springtime sun in, as well as a queen-sized bed, kitchenette and bathroom with tub and shower. Perfect for one or two people!
Make the most of your springtime visit to London with a trip to Regent's Park—and a stay in a New York Habitat vacation rental.
Leave a comment below to let us know which events or areas of Regent's Park you have enjoyed.