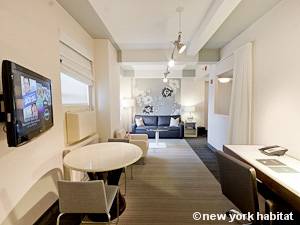 New York Accommodation 2 Bedroom Rental in Midtown West (NY-14528)
If you have ever ogled the iconic fashion photography of Richard Avedon or the black and white vintage prints of Condé Nast, you won't want to miss this year's fashion-themed exhibits at the International Center of Photography (ICP) in Midtown West Manhattan. The ICP has declared 2009 the 'Year of Fashion' and is celebrating with a six-show series of fashion photography that pays homage to elegance, style and, of course, the art of vogueing for the camera.
First in the series is Edward Steichen: In High Fashion, The Condé Nast Years, 1923-1937 on view from January 16 through May 3, 2009. The Steichen retrospective includes 175 vintage photographs, spanning the full range of his fashion images and celebrity portraiture. Steichen served as chief photographer for Condé Nast's Vogue and Vanity Fair and revolutionized the field with his sleek Modernism. Many of the images, drawn from the Steiechen Archive at Condé Nast, have never been exhibited before.
One of the most highly anticipated exhibits at the ICP is Avedon Fashion: Photographs, 1944–2000, on view from May 15 through September 6. The exhibit will provide the most comprehensive look to date of Avedon's fashion photography during his career at Harper's Bazaar, Vogue and The New Yorker.
The International Center of Photography  is located in the heart of midtown Manhattan (1133 Avenue of the Americas at 43rd Street). Want to be close-up to the action? Stay in your very own Midtown West apartment and you'll be steps from the ICP museum, store and café. Consider one of these stylish vacation rentals:
New York Apartment: 1-bedroom rental in midtown west chelsea NY-11197 photo
This modern
2-Bedroom Apartment, Vacation Rental in Midtown West – Chelsea (NY-15428)
. Located right by Madison Square Garden, this 24-hour concierge building features a fully equipped fitness center and a luxurious decor. Enjoy the views of the Manhattan skyline in this gorgeous two bedroom vacation rental.
This chic 1-Bedroom Accommodation in Midtown West – Chelsea – New York (NY-11197), located on the 15th floor of a 25-floor high-rise building. The apartment has been completely renovated and is filled with pop art.
For more information on ICP's yearlong line-up of fashion exhibits, visit the ICP's website.
Have you ever been to the International Center of Photography in New York? Do you have a favorite fashion photographer? Share your comments and experiences with us!