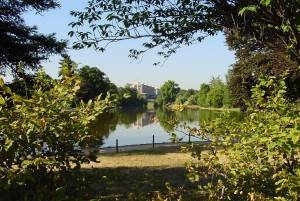 Photo of the Bois de Boulogne in Paris
Earlier, we learned about a
Parisian Park known as Le Champ de Mars
As the weather gets warmer, you'll want to spend more and more time outdoors on your next Parisian vacation.  We here at New York Habitat are going to be highlighting some of the great outdoor parks and gardens in Paris so that you'll already have some places in mind before you go.  These spots are all great for strolling, picnicking, or just sitting and people-watching, a favorite pastime of Parisians!
Last week, we focused on the large Bois de Vincennes.  This week, we'll be looking at the other large park on the western edge of Paris, in the 16th arrondissement, le Bois de Boulogne.  Like le Bois de Vincennes, le Bois de Boulogne was given to the city of Paris by Napoleon III and Haussmann once again helped to turn it into an English style garden.  In the nineteenth and early twentieth centuries, the park was a favorite of the upper classes.
These days, the park is home to many different types of attractions.  There are many hiking trails and you can rent boats to go out into the park's two lakes. Two famous stadiums can also be found in the park: le Parc des Princes, which holds soccer matches and concerts, and le Stade Roland Garros, home to the French open.  At the north end of the park, you'll find le Jardin d'Acclimatation which has a small zoo, mini-golf course, bumper cars and other fun amusements for young children.
Among the many smaller cultivated gardens in the park, there are two that should definitely be visited: le Jardin de Shakespeare, which features plants and flowers mentioned in Shakespeare's plays, and le Jardin des Poètes, which combines plants and flowers with some of France's most beloved poets such as Ronsard and Baudelaire.  All in all, the Bois de Boulogne is sure to have something for everyone!
New York Habitat has many apartments in the 16th arrondissement, near le Bois de Boulogne.
This 1 Bedroom Vacation Rental in Porte Maillot, Champs Elysees (PA-4084) is right near the northeast corner of the park.  The apartment's comfy furnishings will make you feel at home right away.
If you need some more room, look at this 3 Bedroom Apartment in the Suburbs (PA-3733) is also within walking distance of le Bois de Boulogne.
Le Bois de Boulogne is a perfect way to spend a beautiful spring or summer day in Paris. It offers a perfect balance between places to visit and places where one can just relax and soak up some Parisian atmosphere.  A nearby Paris accommodation could make a visit to le Bois de Boulogne a daily occurrence!
Now we will learn about Another Parisian Park known as Le  Bois de Vincennes
Have you been to le Bois de Boulogne?  What was your favorite thing to do there?  Please share your ideas with us in the comments section.