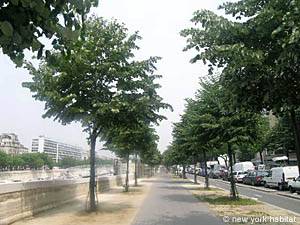 Paris tree lined streets photo
Earlier we learned about the Parisian Park known as Le Bois de Boulogne.
As the weather gets warmer, you'll want to spend more and more time outdoors on your next Parisian vacation.  We here at New York Habitat are going to be highlighting some of the great outdoor parks and gardens in Paris so that you'll already have some places in mind before you go.  These spots are all great for strolling, picnicking, or just sitting and people-watching, a favorite pastime of Parisians!
This week, we'll be looking at le Bois de Vincennes, on the eastern edge of Paris.  The park was given to the city of Paris by Napoleon III and Haussmann helped to turn it into an English style garden.  All together, the Bois de Vincennes is three times larger than Central Park in New York, and four times larger than Hyde Park in London.  Taking either the 1 or the 8 metro lines will get you to the entrance.  Most of the park is made up of hiking and horse trails.  You'll also find a racetrack, running tracks, and small stadiums.  The large Lac Daumensil offers boating.  In terms of places to visit, there is a large zoo, a small petting zoo filled with farm animals, or le Parc Floral de Paris which includes a butterfly garden and hosts outdoor concerts in the summer.  Le Bois de Vincennes is also home to the large Château de Vincennes which housed both French royalty and prisoners during its long and rich history.
New York Habitat has many Paris accommodations near le Bois de Vincennes.
This 1 Bedroom Vacation Rental in Bastille (PA-3911) may be located on the ground floor but it also offers access to the beautiful courtyard.  It features a large great room that combines a living area, an eating area, and the well-equipped kitchen.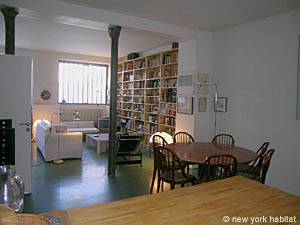 Paris Accommodation: 1-bedroom apartment rental in Bastille (PA-3911) photo
You could also rent this 2 Bedroom Vacation Rental in Bastille (PA-3150) facing the Port de Plaisance and near a Parisian landmark, the Place de la Bastille.
Le Bois de Vincennes is a perfect way to spend a beautiful spring or summer day in Paris.  It offers a perfect balance between places to visit and places where one can just relax and soak up some Parisian atmosphere.  A nearby New York Habitat vacation apartment rental could make a visit to le Bois de Vincennes a daily occurrence!
Have you been to le Bois de Vincennes?  What was your favorite thing to do there?  Please share your ideas with us in the comments section.