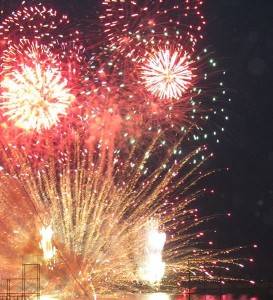 Photo of New York fireworks
New York City is gearing up for the nation's 233rd birthday. Whether you want to see America's largest Fourth of July fireworks display, Coney Island's world-famous hot dog eating contest or the view from the top of the Statue of Liberty's reopened crown, NYC is the place to be for this year's Independence Day celebrations.
Since 2000, Macy's annual fireworks extravaganza has been launched from the East River, between Manhattan and Brooklyn. But this year, the pyrotechnics show is returning to the Hudson River to celebrate the 400th anniversary of Henry Hudson's voyage to America. On Saturday, July 4th, six giant barges will line up between 24th and 50th street on the Hudson to set off the spectacular 26-minute display. Over 40,000 shells will explode across the Manhattan sky at an astounding rate of more than 1,500 per minute.  The show starts at 9:00 p.m.
During the day, you can take part in one of the many Fourth of July festivities going on around the city. Since there's nothing more American than a good hot dog, why not head out to Coney Island for Nathan's International July 4th Hot Dog Eating Contest? The annual competition, reportedly in its 94th year, takes place in front of Nathan's Famous Corporation's original restaurant at the corner of Surf and Stillwell Avenues. Last year, more than 40,000 fans gathered to see the culinary confrontation and more than a million watched the televised coverage on ESPN!
Visiting the Statue of Liberty is another fantastic way to celebrate the nation's birthday, especially this year since the federal government recently announced plans to reopen the crown for the first time since the September 11th attacks. The crown will reopen on July 4th as a gift to the nation. Visitors must climb a narrow 168-step spiral staircase to reach the top and access will be limited to 10 people at a time. Ticket information is available at the Statue of Liberty National Monument Website
With so much going on in New York City this Fourth of July, you will want your very own apartment to call home. Consider a central apartment in Manhattan or a trendy vacation rental in Brooklyn for example. New York Habitat has many conveniently located vacation rentals including: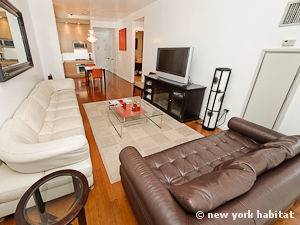 New York Apartment 1 Bedroom Rental in Midtown West (NY-12092)
This sleek studio vacation rental Williamsburg (NY-15411). Its dark wood floors, modern design and stainless steel appliances make it a great option for your stay in New York. It also has south exposed wooden overlooking a garden.
This exquisitely furnished 1-Bedroom Penthouse Accommodation in Midtown West – Chelsea (NY-12092) located on the 24th floor of an elevator building. Enjoy the modern kitchen with stainless steel appliances and an in-unit washer and dryer.
The Fourth of July is right around the corner. It's time to make plans for the biggest bash of the summer, right in New York City.
Have you ever been in New York for the Fourth of July? Do you have a favorite place to view the fireworks? Please share your comments with us.
Related apartment rental posts from New York Habitat: