Hello once again. Welcome to another New York Habitat video blog! Today, we are going to get a little taste of one of New York's most famous neighborhoods, known as SoHo. You may have imagined SoHo neighborhood as the one of the most fashionable areas in New York with its loft-style apartments, art galleries, and its diverse shopping. If you imagined SoHo like that then you are right. SoHo, which stands for SOuth of HOuston Street, is undeniably one of the coolest neighborhoods in New York. It's has been the backdrop for fashion shoots, TV commercials and Hollywood blockbusters like Men in Black, Spiderman or Unfaithful. Many famous stars have their New York apartments in SoHo. They wander the streets randomly, so be sure to keep an eye out for celebrity sightings. In fact, the day we were out filming this video, we met Whoopi Goldberg!
Click above to watch this video: Tour of SoHo, New York – What to see and do.(4:58)
You'll find SoHo in southern Manhattan just to the south of Greenwich Village. The boundaries of the heart of SoHo are roughly Houston Street to the north, Canal Street to the south, Crosby Street to the east and 6th Ave to the west.
SoHo's Architecture and landmarks:
Before we get into the modern day delights of SoHo, let's step back in history a bit. What is fascinating about this neighborhood is that it is the largest surviving cast-iron building district in the world. Many commercial buildings along Broadway and Spring Street feature this type of construction. Cast-iron's fire-resistant properties and strength made it possible to construct large building façades at less cost than comparable stone fronts.
A great example of SoHo's cast-iron buildings is 28-30 Greene Street. Built in 1872, it's known as the "Queen of Greene Street". It towers over the street with its ornate French Second Empire façade. And of course, every Queen needs a King. Located at 72 Green Street is another cast-iron building known as the King of Greene Street. This cast-iron beauty, built in 1873, is probably the best example of the Second Empire architectural style in New York City.
As you might know, SoHo is also well known for its loft style apartments. In the late 1800s, SoHo became an industrial district where workers toiled in dangerous conditions. Eventually, in the 1960s, as most of the commercial and manufacturing buildings were abandoned, SoHo was almost destroyed. As with many of New York's neighborhoods, SoHo was saved by artists who settled there and used the large loft spaces as studios. As artists moved in, the district became populated with galleries and eventually SoHo became the center of the lower Manhattan art scene. Today, the area remains full of art galleries.
Some of our favorite SoHo accommodations include:
This bed and breakfast loft apartment centrally located in SoHo on Prince Street (NY-9572)
This amazing 3-bedroom vacation rental loft in neighboring Tribeca (NY-5278)

Galleries:
Speaking of SoHo art galleries, be sure to check out Franklin Bowles Galleries (431 West Broadway) specialized in valuable works such as Rembrandt and Matisse, Chagall, Dali and Miro. Also, the Louis K. Meisel Gallery at 141 Prince Street is worth a visit. It claims to have the largest collection and available inventory of pin-up art in the world.
If you'd like to get a taste of artsy loft living, take a look at New York apartments to find a great selection of furnished lofts that you can call home during your next trip to New York. If you're looking for something smaller than one of our huge SoHo lofts, we've got tons of studios, and 1 and 2 bedroom vacation rentals and furnished apartments in SoHo and throughout New York.
SoHo Attractions: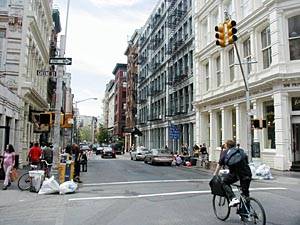 Photo of SoHo New York
The New York Fire Museum – 278 Spring St.:
An often-overlooked attraction in SoHo is the New York Fire Museum. You'll see an amazing collection of ladders, fire gear and fire trucks – including one of the oldest known fire engines in America, built in 1790.
Children's Museum of the Arts – 182 Lafayette St.:
If you are traveling with your children, bring them to the Children's Museum of the Arts on Lafayette Street where they're guaranteed to have a good time. Many entertaining activities including diving into a pool of balls, play-acting in costume, playing instruments, or sculpting are available at the museum.
SoHo Piers along the Hudson River:
If you're looking for some relaxation, head over to the SoHo Piers along the Hudson River. You'll find everything from golf and rollerblading to baseball and rock climbing. When the weather is nice, you can lounge on the grass of the park. Relax, you're in New York!
And of course, what would a trip to SoHo be without some shopping. SoHo is famous for its shopping scene. You'll find elegant shops, designer stores, larger chains, mom-and-pop shops and sidewalk vendors selling artwork. There really is something for everyone.
Walk along Broadway and stop by the bigger stores, then wander over to Prince and Spring Street where you'll find plenty of hidden designer boutiques.
Restaurants and nightlife:
While you're out shopping, make sure to buy some fancy eveningwear because you're going to want to go out for some of SoHo's fantastic nightlife. Some of my favorites SoHo hot spots are: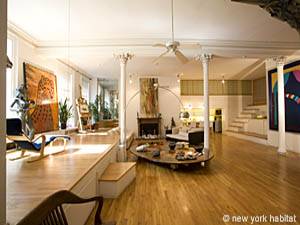 New York Apartment: 3 bedroom loft in TriBeCa (NY-5278) photo
Balthazar – 80 Spring St.
S.O.B – 204 Varick St
SoHo Park – 62 Prince St
Bar 89 (be sure to check out the bathroom door!) – 89 Mercer St.
Mercer Kitchen – 99 Prince St
Raoul's – 180 Prince St
Well, I hope you've enjoyed our tour of SoHo. Of course, there's a lot more to see and do here. If I've missed any of you're favorite SoHo secrets, be sure to share them with us in the comments below.
And be sure to check out New York Habitat's website where you'll find apartments in SoHo as well as throughout New York City.
Related apartment rental posts from New York Habitat: