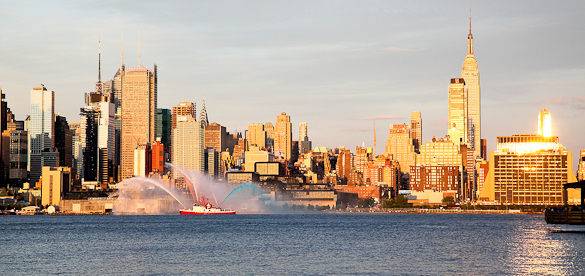 A FDNY fireboat sprays red, white and blue water up in the NYC skies for the 4th of July.
Every year, people from all over the world flock to New York City for one of the biggest holidays of the year: the
4th of July
. This year, New Yorkers celebrate the 236th birthday of their nation. Independence Day is a federal holiday filled with celebrations, culminating in New York with the largest pyrotechnic display of the night: Macy's Fireworks. This event is definitely a must-see, but what to do during the day?
You can take part in a historic walking tour, watch red, white and blue water spray up in the air at the FDNY Fireboat Water Show, go to a parade, or partake in any of the countless other activities in the city. If you're in NYC for the fourth of July, you'll have to make a choice as there's simply too much to see and do in one day! So that's why we've assembled a little guide for you with activities to do during the morning and afternoon. Furthermore, we'll put together a list of the best places to watch the fireworks at night in the second part of this blog series about the 4th of July.

Picnic in Central Park

A panoramic view of Central Park seen from New York City's Rockefeller Center. Photo by Martin St-Amant
The 4th of July is a patriotic holiday celebrating the nation's independence. It is also one of the few days in the year hardworking New Yorkers have the entire day off to spend time with their family and friends. This is why you'll see many people simply enjoying a barbecue in their neighborhoods or relaxing in the park all day with a huge picnic basket. If the weather is good – and chances are it will be on this midsummer's day – why not join the locals in this time-honored tradition? A laidback afternoon in one of New York City's parks will ensure you'll be fresh and fully-rested for the evening festivities.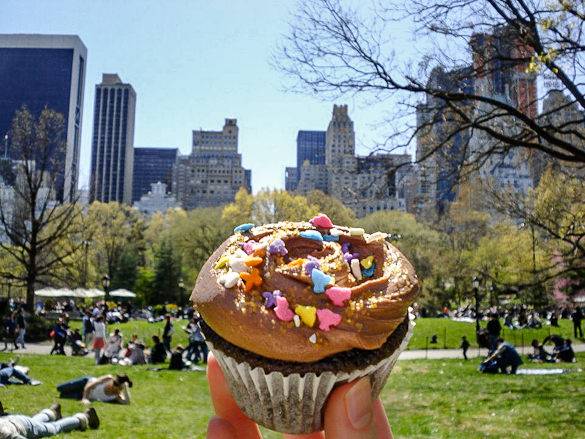 Enjoy a picnic in New York City's Central Park and don't forget the cupcakes!
New York City's most famous park lends itself naturally for a nice picnic in the sun. Central Park is about 2.5 miles (4 km) long and half a mile (0.8 km) wide. Although you'll literally find picnic spots all over the park, there are two lawns in particular that are widely known in New York as the perfect place for a picnic. Most visitors to the city enter Central Park from the south, as they walk their way up midtown. The most southwest entrance to the Park is located at Columbus Circle, where you can find food carts and even a supermarket to stock up on your picnic basket necessities.
Sheep Meadow
If you walk north on West Drive in Central Park from Columbus Circle you will see a huge green lawn to your right after about 1500 feet (500 meters), called Sheep Meadow. Sheep Meadow is so named because until 1934 an actual flock of sheep called this meadow their home! Nowadays, the meadow is frequented by sunbathers, families, students and picnickers alike. Bring your own picnic and relax on the lawn's soft green grass, or take a Frisbee or American football and join the other sport enthusiasts in the middle of the meadow.
The Great Lawn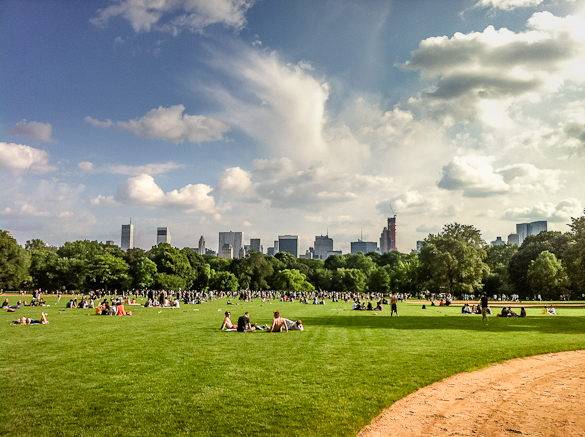 A southern view over the Great Lawn in NYC's Central Park.
The biggest field in Central Park lies a little further to the north. The Great Lawn is a large oval-shaped field located between Turtle Pond and the Jacqueline Kennedy Onassis Reservoir. It features multiple baseball fields where you can practice the beloved American pastime, as well as a luscious stretch of grass to accommodate your picnic blanket. To get to the Great Lawn, you can catch a B or C train to either 81st or 86th Street and walk east. You can also catch a 4, 5 or 6 train to 86th Street and walk west, but this is a slightly longer walk.
For even easier access to the whole of Central Park, we have an amazing loft studio in the Upper West Side, less than 2 blocks away from Central Park West! The unique alcove studio is located on the top floor of a 19th Century Church rectory. The apartment has vaulted ceilings, a sleeping alcove and you even have an original stained glass window in the living room! The apartment is conveniently located just 1 block away from the nearest subway stop, which means you can explore other neighborhoods in Manhattan in the mornings only to relax in Central Park in the afternoons.
Nathan's Famous Hotdog Eating Contest in Coney Island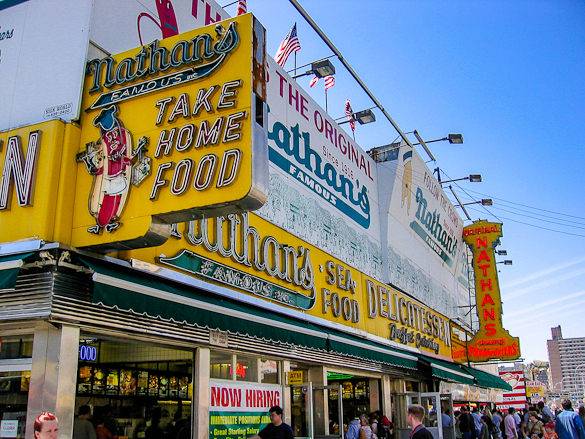 Nathan's Famous fast-food restaurant in Coney Island. Photo by J. Reed.
If you're up for something a little more sensational, you can also make your way to Coney Island, Brooklyn, during the afternoon on the 4th of July. Every year, a world-famous hot dog eating contest is held at Nathan's Famous on this day. It is rumored that this contest was first held in 1916, which is the year Nathan's opened on Surf Avenue. The story goes that the contest started when four immigrants wanted to clear up once and for all who among them was the most patriotic. Apparently, they agreed eating the most hot dogs in a set period of time seemed like a good way to settle this.
Nowadays, it is estimated that Nathan's hot dog eating contest draws over 40,000 visitors every year. They gather to watch the contest, try the famous hotdogs and spend the day in Coney Island. This year, the televised event will start at 3pm. World record holder Joey Chestnut, who ate 68 of Nathan's hotdogs in 10 minutes, will defend his title. The female champion Sonya Thomas, who achieved 40 hot dogs in 10 minutes, will also compete again. You can find the contest at Nathan's Famous on the corner of Surf Avenue and Stillwell Avenue in Brooklyn.

Coney Island Boardwalk and Beach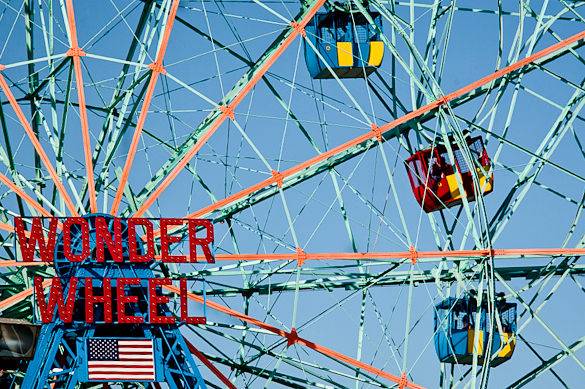 Coney Island's Wonder Wheel on a summer's day
Because the hotdog eating contest is made up out of just two segments of 10 minutes each, you'll have plenty of time to explore Coney Island before or after. When you walk one block south from Nathan's, you'll come across the legendary Coney Island amusement park with the iconic Wonder Wheel and Cyclone rollercoaster, the boardwalk and the beach. So be sure to bring a towel and prepare for a day of sun, sand and sea! If you want to learn more about beaches in New York, check out our
Top 5 Beaches in and around New York City
. To reach Coney Island, you can take the D, F, N or Q subway from Manhattan to the Coney Island/ Stillwell Avenue station.
Stay tuned for the second part of this blog series, where we will list some of the best places to watch Macy's fireworks show on the 4th of July!
How are you planning to celebrate Independence Day?