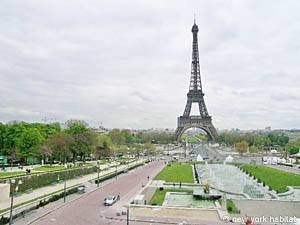 Champ de Mars - Eiffel Tower
The Eiffel Tower is the most famous landmark in Paris, attracting millions of tourists each year. But if you've filed the Eiffel Tower under the "been there done that" category, think again. The Champ de Mars, the sprawling lawn that spans from the southeast side of the Eiffel Tower to the Ecole Militaire, is the perfect place to enjoy a baguette, some fromage and a bottle of wine.
Located in the popular 7th arrondissement of Paris, the Champ de Mars (Field of Mars) was named for the Roman god of war and was originally used as a military training ground. The lawn was also a key site during the French Revolution. Today, the large public greenspace is home not to feuding soldiers but to students, young couples and families, socializing against the breathtaking backdrop of the Eiffel Tower. The ideal time to throw down a blanket is at dusk, as groups gather in anticipation of the hourly light show. When the tower starts twinkling against the darkened sky, the crowd is set abuzz.
The well-manicured lawn of the Champ de Mars is crisscrossed with walking paths and dotted with flowerbeds. At the far end of the park, in front of the Ecole Militaire, you'll find the Monument to Peace, which has the word 'Peace' written in 32 languages on 32 columns and a kiosk that allows visitors to leave their own message of peace. The park also has many attractions for children, including a playground, marionette theater, carousel and even pony rides.
New York Habitat has an excellent selection of apartments in the 7th arrondissement, near the Champ de Mars and the Eiffel Tower, including:
This warm and inviting 1-Bedroom Vacation Rental in Invalides – Auteuil – Tour Eiffel (PA-1741) .
This gorgeous 2-Bedroom Vacation Rental in Invalides – Auteuil – Tour Eiffel (PA-2914) situated on the fourth floor (fifth for US) of a 20th century walk-up building. The master bedroom looks onto the street and has a picturesque view of the Eiffel Tower.
Stay near the Champ de Mars and you'll be able to have a picnic in the park whenever you like. And for those in Paris for Bastille Day, July 14th, you'll have great seats for the main fireworks display, fired off from the Champ de Mars or across the river at the Trocadero Gardens.
Have you ever been to the Champ de Mars? Please share you comments with us!