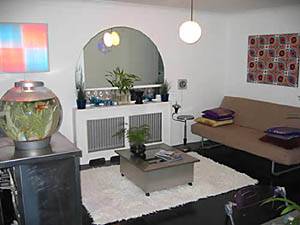 London Accomodation 1 Bedroom in Islington (LN-436)
If it's a vibrant creative scene, cultural diversity and low costs you're after, then there's nothing quite like a stay in London's East End. New York Habitat has fully furnished accommodations in London that fit your budget and put you in the center of this hip and happening area. All you have to do is enjoy…and explore!
Some of the best deals in London can be found on Brick Lane. There are Indian restaurants galore—all with above-average fare and lower prices than in other parts of the city. Just walk down the street and let the bidding wars begin: Servers will try to tempt you into their establishments with free glasses of wine, appetizers or desserts, or fifteen percent off your total tab. Go with the best offer—and be assured that, as far as the food is concerned, you can't go wrong.
Near Brick Lane is the Truman Brewery, an eclectic art space with shops, eateries and—as the name promises—pints. Stop by for free showings and events or the popular (Up)Market on Sundays, where you can score samples of global or local treats or reasonably priced one-off clothing and accessories. Such cutting-edge designs can also be found at the nearby Spitafields market, an East End institution. Throw in a stroll through the colorful Columbia Road Flower stalls, and you can make a fun, low-cost day of it.
The East End is also known for its galleries, which are more manageable—and often more contemporary—than London's large-scale museums. Drop by Whitechapel in East Aldgate for free installations and music (and some of the best souvenirs for under £5 or £10 that you can shove into your carry-on), or White Cube in Shoreditch for its vanguard of visual artists.
To explore the great outdoors, go for a dip in the lido at London Fields or head to sprawling Victoria Park for some football, free films or low-price music festivals. Let New York Habitat put you near it all in one of these amazing flat rentals to stay in East End: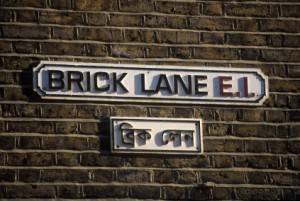 Brick Lane Street Sign
· A mod-styled 1-bedroom vacation rental in City-Islington (LN-436) on Hackney Road, near the Columbia Flower Market, Brick Lane and Spitafields. This funky ground-floor flat comes with a double bed, sofa bed, laundry/dryer, terrace and garden with deck. Smoking is permitted—and feeding the goldfish is encouraged!
· This cool alcove studio in City-Islington (LN-654) offers fresh furnishings, loads of light, a separate, fully equipped kitchen and more. It is located in a period block building near the East End.
Check out our other Low-Cost London Neighborhoods:
- Mayfair
With a New York Habitat accommodation in London's East End, you don't have to spend a lot to see it all!
Let us know your favorite low-cost local attraction with a comment below.
Related apartment rental posts from New York Habitat: