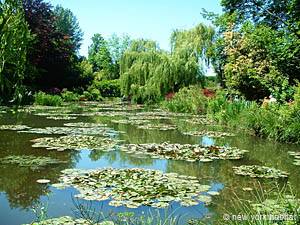 Giverny
The city of
Paris
is home to Monet's Impressionist masterpieces but if you want to see them come to life you must travel to Giverny. The tiny village, just a 45-minute train ride from Paris, is
home to Monet's astonishingly beautiful estate and gardens.
Visitors can tour the pink house where the artist lived as well as the vast 5-acre garden where he drew inspiration. Strolling through the grounds makes you feel as though you're in one of his paintings.
Having first discovered Giverny while gazing out a train window, Monet made his home there from 1883 until his death in 1926. He was a skilled gardener and poured endless energy into creating the landscape he wished to paint.
His sprawling garden is divided into two parts, the Clos Normand — a pastel paradise of irises, hollyhocks and climbing roses — and the Japanese water garden, dotted with weeping willows, water lilies and the Japanese bridge famously captured in his Nymphaes series. The Monet estate is open daily from April through October, 9:30 am – 6:00 pm.
Next to Monet's house is the Musée des Impressionisms Giverny. From May to mid-August this year, the museum is hosting a special exhibit of 20 paintings created by Monet of his gardens at Giverny. This must-see exhibit allows visitors to view the water lily paintings in the setting in which they were painted.
Getting to Giverny from Paris is easy. Begin your journey from the Saint-Lazare train station and take the Paris/Rouen/Le Havre line to Vernon, a small town just three miles away from Giverny. After arriving in Vernon, you can take a taxi, rent a bicycle or even walk to the Claude Monet estate.
New York Habitat has hundreds of gorgeous apartments all over Paris that are perfect for the art-loving traveler. You can contemplate Monet's masterpieces in the Musée D'Orsay and the Musée de l'Orangerie, then take a daytrip to Giverny to see the gardens that inspired them. Check out these great apartment finds:
– This great 1-Bedroom Vacation Rental in Le Louvre (PA-3889) that features an open design, large windows and a traditional French design with a modern touch.
– This lovely 1-Bedroom Vacation Rental in Opera – Le Louvre (PA-3919), located on the sixth floor of an 18th-century building with an elevator. The living room has eastern exposure with a window overlooking the quaint street below.
Have you ever been to Giverny? Share your experience with us!