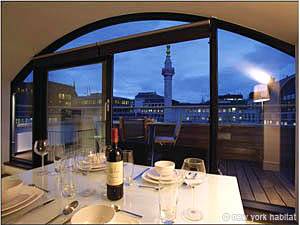 London Vacation Rental 2 Bedroom Apartment in City/Islington (LN-659)
England's capital is well-known for its centuries-old architecture
(and, in fact, ancient ruins from the Roman Wall can still be seen throughout this bustling and cosmopolitan center, most unexpectedly in the basement of a barbershop in Leadenhall Market in the
City
and most picturesquely within the sprawling confines of the Barbican Centre). However, in recent years,
London
has been undergoing a facelift in terms of architecture and design—and there's more to come before the 2012 Olympics. Admirers of modern style will be pleased and perhaps a bit surprised at all the cutting-edge structures the city has on show—not to mention the stylish and contemporary accommodations that New York Habitat offers throughout central London.
To really see the changes giving London its updated look, head to St. Helen's Church, a well-preserved example of twelfth-century architecture. Then contrast it with the infamous "Gherkin" (St. Mary's Axe) rising behind it. That contemporary building was constructed on the site of a 1992 IRA bombing to commemorate the city's commitment to continually moving forward.
Another nearby example of modern design is Sir Richard Rogers's celebrated building for Lloyd's Insurance, styled somewhat like a sophisticated Erector Set. The stone remains of Lloyd's original doorway from the 1800s stand solemnly to its right, a reminder of London's rich history.
Yet another of Rogers's buildings, Lloyd's Registry for Shipping, at 71 Fenchurch Street, is also a modernist masterpiece, with a courtyard garden, exterior glass elevators and a sleek, ship-shaped fountain. It was built in 1997 behind the classical façade of the original Lloyd's Registry.
Of course, many of London's shops, bars and restaurants also boast the most modern design elements while paying homage to the past. For example, the Hoxton Apprentice in Hoxton Square, Hackney, is an excellent restaurant that employs ex-homeless workers and trains them in the gastronomic arts. The high ceilings, wood floors and huge windows were once part of a Victorian schoolhouse, now transformed into a popular, stylish and socially conscionable eatery (profits go back into the charity/training program).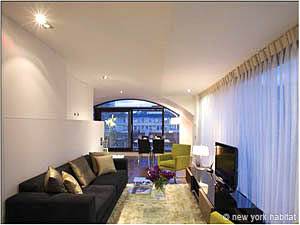 London Vacation Rental 2 Bedroom Apartment in City/Islington (LN-659)
To really get a glimpse of London's architectural style, stay in a chic New York Habitat vacation
accommodation in the City
, such as:
· A breathtaking 2-bedroom vacation accommodation in City-Islington (LN 659) on the penthouse level. This apartment is built in a former luxury office and comes with two baths, laundry/dryer, dark oak flooring and two spacious outdoor terraces that allow striking views of the skyline.
· A crisp, clean-lined studio in City-Islington (LN-212) on the third floor of a period walk-up. This vacation accommodation has a double bed, laundry/dryer, decorative Victorian fireplace and lots of light from the large windows. To contrast the white walls and appliances, there's a black antique leather sofa.
· A sleek studio in City-Islington (LN-681) on the lower-ground floor of a period building near Tower Bridge. This rental accommodation comes with a stylized and comfortable double bed, laundry/dryer, wood floors, open-plan kitchen and unique windows.
For fans of high design, there's no better city than London—and no better place to stay than in a New York Habitat vacation rental in London.
Let us know your favourite building in London with a comment below.