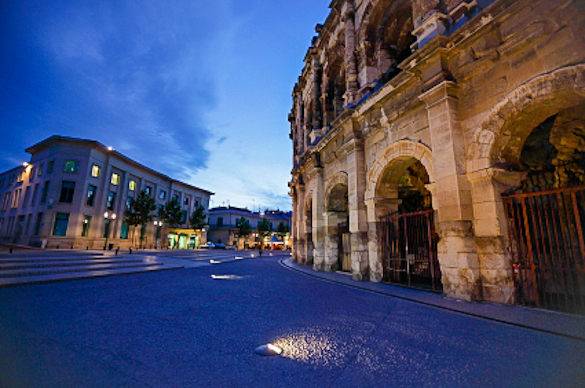 The arena of Nimes, in Provence, France
If you're in the process of planning your summer vacation and hope to beat the crowds, there are many choices in the South of France. Nîmes is one of the best for sure! Famous for its arenas, and the charming musicality of its inhabitant's language, this city definitely is a must-see in Provence. This summer, the festivities are starting mid-June with the "Chants d'attraction" festival. The events will offer to the visitors an array of musical and cultural shows with international performers, exhibits such as "Picasso, Nîmes et les toros", light spectacles, wine tastings, outdoor movies and so much more!
Once you're done with the festivities, make sure to visit the city's Roman vestiges, which are among the most spectacular and well-preserved in the world. Over 2,000-years-old, its Maison carrée (Square House), arena, castellum divisorium (Distribution Basin) as well as the remains of the city walls, are the pride and joy of all Nîmois.
Its remarkable history notwithstanding, Nîmes is resolutely living in its time and has had the good fortune of attracting some of world's most prestigious contemporary architects. Esoteric cultural endeavors or down-to-earth urban planning, they have greatly helped make this ancient town a vibrantly modern city.
New construction does not necessarily mean neglecting the environment though, and Nîmes is proud to boast of 406 hectares of public green space and 1,200 hectares of carefully maintained wild land. The 18th century "Jardins de la fontaine" (Fountain's Gardens) are a particularly popular meeting place thanks to their central location, natural beauty and historic monuments.
Ready to pack? Now all you need is your little (or big) home away from home, and New York Habitat is more than happy to help you with their fully furnished rentals all over the region.
In the nearby town of Avignon, renowned for its imposing Palace of the Popes, we have a slick studio – Avignon – PR 1119 that has everything you need, including funky decorations along with more mundane amenities like laundry, A/C and Internet.
If you're in need of more space, our 2-bedroom – Avignon – PR 969 combines the convenience of a central location with the quietness of a residential neighborhood. The large glass blocks wall provides light galore to the living room and the various plants a homey atmosphere.
Who has never dreamed of a sun-filled, nature-friendly luxurious duplex? Well, you can now temporarily have your own with our stunning 2-bedroom – Avignon – PR 615 with a view, which will offer you all comfort, including A/C, DSL and an all-round stereo system, in a beautiful 16th century building right downtown.
The quieter town of Beaucaire will welcome you and your friends or family in our colorful 3-bedroom – Beaucaire – PR 477. The spacious terrace and its view of the castle of Tarascon may very well turn your whole party in total homebodies.
Have you ever been to the area and would like to share your impressions below?
Related apartment rental posts from New York Habitat: