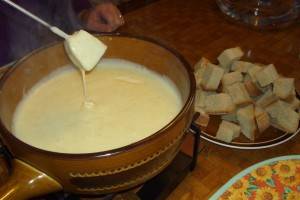 Fondue
Few things are cozier than ducking into a fondue restaurant in Paris on a cold, blustery night. Although the hearty dish originated in Switzerland, it has become a culinary classic in France. Fondue restaurants abound in the nation's capital, bringing together friends and families for the communal dining experience.
Eating fondue can feel quite decadent but the rich dish's origins are decidedly humble. Swiss villagers, without access to fresh food during the long winters in the mountains, discovered that melting old cheese, and then dipping hardened bread into it, made their stale ingredients far more edible. In fact, the word fondue is derived from the French verbs fondre (to melt) and fondu (melted).
The Swiss cooking method was adopted in the French Alps, particularly in the Savoy region, where fondue savoyarde was born. The French take on the dish contains three cheeses, Comté, Emmental and Beaufort, as well as local white wine.
For a delicious fondue savoyarde meal in Paris, and a spirited dining experience, there's nothing like Le Refuge des Fondus in Montmartre, in the 18th arrondissement. The tiny restaurant features only two items on the menu: Fondue Savoyarde and Fondue Bourguignonne, a meat fondue. Wine is served in baby bottles, waiters tell jokes, and guests are encouraged to write on the walls. The charming little fondue joint has been such a hit in Paris that an American version, La Cave des Fondus, recently opened in New York.
While Le Refuge des Fondus is one of a kind, it is certainly not the only place for exceptional fondue in Paris. Other noteworthy spots include Saveurs de Savoie on Rue Mouffetard in the 5th arrondissement, which serves classic French food, and Les Montagnards, in the 1st arrondissement, a rustic chalet located on Rue Jean-Jacques Rousseau.
If you can't wait to warm up with some cheese and wine this winter, consider one of these great New York Habitat apartments in Paris:
- A classic 1-Bedroom vacation rental in Montmartre – Sacre Coeur (PA-1850), located near Le Refuge des Fondus and the famous Rue Lepic.
- An elegant 1-Bedroom duplex vacation rental in Saint Germain des Pres – St Michel – Notre Dame (PA-2509), located near the Luxembourg Gardens. The well-decorated apartment overlooks a lovely courtyard garden.
Do you have a favorite fondue recipe or restaurant? Share your comments with us!
Related apartment rental posts from New York Habitat: