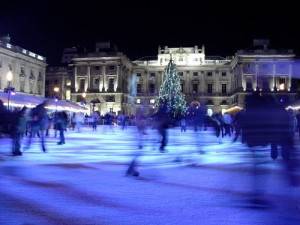 The London Somerset House ice skating sessions (Photo by Michael Pead)
Though
London
might not be everyone's idea of a warm weather destination, there are plenty of ways to stay toasty this winter while heading out on the town. Of course, no one would blame you if you decided to stay in your comfortable New York Habitat
vacation rental in London
instead! But if you do venture outdoors, here are some suggestions.
Until the third week of January, the Somerset House in West End hosts ice skating sessions in its gorgeous courtyard. With torch lights, a Christmas tree decorated by Tiffany's and a tent serving hot buttered rum and hot cocoa, you won't even notice the chill in the air. Lace up, take a few laps around the rink and rosy cheeks are guaranteed.
Come in from the cold and do a bit of shopping in London's celebrated, long-awaited winter sales, many of which end around January 31. The crowds alone should keep you warm in Harrod's (Knightsbridge) and Liberty (Soho). Or with a record seventy-five percent off items at Selfridge's (Marylebone), you can afford to layer on the clothing. The discounts get deeper as the weeks continue, but the selections will decrease, so grab those sweaters while you can.
From January 21 until April, The Whitechapel Gallery in Aldgate, East End, is having a retrospective spanning the last 150 years of photography from India, Pakistan and Bangladesh. The best part is that you're only a few minutes' walk from Brick Lane, home to some of the most delicious and least expensive Indian restaurants in the city. The spices should warm you right up and a nice, lingering lunch or dinner will give you enough time to talk about the exhibit before heading back out into the elements.
While it may seem counterintuitive, a trip to the Absolut Icebar off Regent's Street is a good winter destination. It is located in Mayfair, a neighborhood offering lovely and central located flats. Everything inside the minimalist, modern Icebar—the walls, glasses, seats and bar itself—is made entirely of ice and the thermostat reflects the minus five degrees temperatures of Sweden. One vodka-based cocktail comes with the price of admission—as does an insulated, hooded cloak, which is more flattering than it sounds. Don't worry if seats made from ice blocks don't seem too appealing: Customers are only allowed to stay in the bar area for forty-five minutes, so you don't have much time to try to get comfortable. But afterwards, the streets of London will feel downright balmy in comparison!
Of course, the best place to get cozy is in your own New York Habitat apartment rental in London, such as: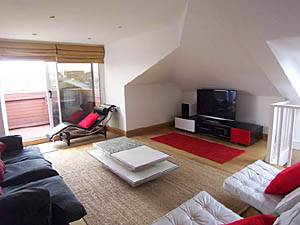 London Accommodation: Hampstead (Ln-734)
• A spacious three-bedroom rental accommodation in Hampstead, Camden-Brent (LN-734) on the top two floors of a stucco-fronted period house on Belsize Square, a quiet area in north London. This penthouse conversion comes with two king-sized beds, two single beds, balcony, laundry/dryer, hardwood floors, a huge living room/lounge space and easy access to tubes and buses.
• A two-bedroom vacation rental in Kensington (LN-517) on the first floor of a walk-up period building and with a private balcony with a patio table and chairs. This flat features floor-to-ceiling windows, laundry/dryer, a dishwasher and a TV with DVD player for those nights you feel like staying in.
• A fantastic ground-floor studio in Bloomsbury (LN-1240) conveniently located near public transportation. This accommodation has a sofa-bed in the living area, and a double bed in the bedroom. Both rooms have sliding doors opening onto a nice terrace with a glass table and two chairs.
Winter is a great time to visit London—and to chill out or warm up in your New York Habitat vacation rental.
Let us know some of your favorite things to do in London in wintertime with a comment below.