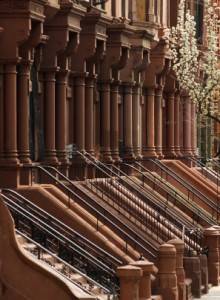 Photo of the Streets of Harlem
With temperatures near freezing and the streets covered in slush, New York's best pick-me-up might be the hearty fare known as soul food. Derived from historically African-American and Southern cooking, soul food satisfies the appetite like few other cuisines, so if you visit New York during the cold-weather months, you owe it to yourself to give this world-famous food a try.
Sylvia's Restaurant of Harlem is hands-down the best-known soul food restaurant in New York. Founded in 1962 by South Carolina transplant Sylvia Woods, the restaurant originally consisted of little more than a counter and a few booths, but has since expanded to become the legendary institution that played host to Nelson Mandela, Bill Clinton, and Magic Johnson, among countless other luminaries.
None of this history would matter, of course, if it weren't for the mouth-watering cuisine that consistently draws rave reviews from both native New Yorkers and tourists alike. Among the specialty dishes that made Sylvia's famous are barbecued ribs, smothered pork chops, fried chicken with waffles, collard greens, and (last but not least) a mighty macaroni and cheese. Try to save room for dessert, too, because treats like the peach cobbler and rum cake are not to be missed either. Wash it all down with some of the house lemonade and you can truly claim to have experienced home-style cooking at its best.
Open daily, Sylvia's is located in central Harlem at 328 Lenox Avenue, near West 127th Street, and is conveniently reached by subway via the 2/3 train to the 125th Street station. If you are a food lover, Harlem offers unique accommodations close to soul food restaurants.
This being New York, of course, there are soul and Southern options beyond Sylvia's that also deserve your attention. In Brooklyn's happening Prospect Heights neighborhood, Mitchell's Soul Food (617-A Vanderbilt Avenue, near the Grand Army Plaza subway stop) serves up spectacular fried chicken, cornbread, and red velvet cake in an unassuming, just-folks setting. Further north in Brooklyn, the Williamsburg perennial Pies-n-Thighs (J, M, Z trains to Marcy Avenue) draws raves for its pulled pork, brisket, shrimp and grits, as well as for the line of baked goods that includes a truly outstanding donut.
New York Habitat has a variety of apartments available in Manhattan, as well as vacation rentals in Brooklyn all through winter and early spring 2011. Here are a few to get you started on your search:
– This furnished 2-bedroom apartment (NY-14637) on the top story of a 5-story, pre-war walk-up in Harlem, New York features wood floors, stainless steel appliances, and granite countertops. Located on 135th Street, near several parks and the Hudson River, the apartment offers easy access to several subway lines and many restaurants and delis.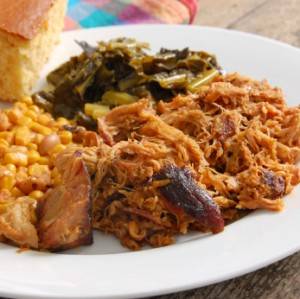 Plate of Soul Food
– A
1-bedroom rental in Harlem, New York (NY-14352)
at East 126th Street & Madison Avenue puts you right in central Harlem, with historic attractions like Sylvia's and the Apollo Theater only blocks away. The apartment itself boasts hardwood floors and both northern and southern exposures that allow for good views of the neighborhood.
– A homey, recently renovated 3-bedroom rental (NY-12604) in Brooklyn's Clinton Hill neighborhood has an eat-in kitchen where four people can dine comfortably. The building's location means that the best of brownstone Brooklyn, with its many restaurants and hopping nightlife, is within easy reach, too.
Do you have a favorite New York soul food memory, or a dining recommendation you'd like to share?  Feel free to leave a comment below.