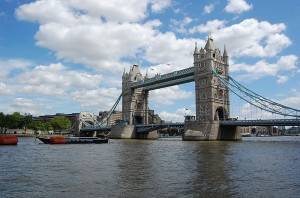 A beautifull view of the London Bridge
The Artful Dodger is one of those increasingly rare London institutions: a real locals' pub.
By your second visit, you'll feel you've found a home away from home—in addition to your New York Habitat rental accommodation, that is.
Well situated between the City and East End, on Royal Mint Road, a three-minute walk from Tower Gateway, the Tower of London and Tower Bridge—the Artful Dodger occupies a handsome old Victorian building. The big draw? Besides the real ale, there's the Docklands Light Railway train by passing across the street. You can't hear it, but you can see the colorful elevated train through the Dodger's huge front window—and it lets you know that you're in London!
Of course, passengers on the DLR—heading to Greenwich, Cutty Sark or the incredibly designed and kid-friendly Thames Barrier Park in Pontoon Dock—also see the Dodger through the train's windows, staring wistfully at the pub as they're riding by. The warm light of the pub's chandelier adds a cheerful touch to a gray winter day, matching the friendly atmosphere inside.
Unlike London's theme pubs, chain pubs or pubs-turned-tourist-attractions, the Artful Dodger is not overly crowded, is very reasonably priced and comes with no added bells or whistles. There are, however, the essentials: a great jukebox, a game of darts or pool, a soccer match on the telly and a small beer garden waiting for you on those crisp, sunny days.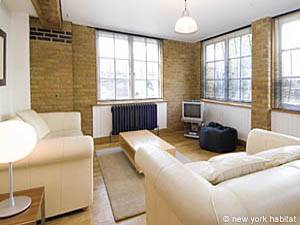 https://www.nyhabitat.com/london-apartment/vacation/694
It's a place to come to strike up a conversation with the regulars and the bartender, who are more than happy to give insider advice about where to go and what to see in their city. The pub may be "artful," but there's nothing pretentious or intimidating about the place. It's just a real London local.
To stay in the neighborhood and make the most of the nearby Thames River Walk and the Docklands (which always have some winter festivities going on), consider these perfectly located New York Habitat vacation accommodations within the Docklands:
• A brilliantly decorated 3-bedroom rental flat in Southwark (LN-694), off Tower Bridge Road. It comes with three double beds, two bathrooms and laundry, and the charm of authentic details such as the brick walls.
• A comfortable 1-bedroom rental flat in City-Islington (LN-682) on the second floor of a period walk-up. Situated on a quiet street, this accommodation comes with a double bed, a sofa bed and laundry/dryer.
• A well located 1-bedroom rental accommodation in City-Islington (LN-736), inside an elevator building. Within easy walking distance of both the Tower Hill and Brick Lane/Petticoat Lane areas, this flat has a double bed, laundry, and a fully equipped kitchen.
On your next trip to London, take a break from the tourist destinations and head down to your local. Nothing makes you feel more welcomed than a friendly greeting at a neighborhood pub and a New York Habitation rental accommodation to return to.
Let us know your favorite London pub with a comment below.