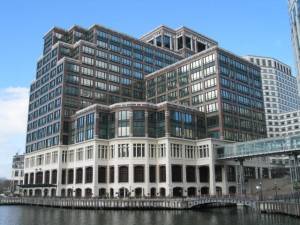 View of Canary Wharf in London
For some, Paris is the place for lovers…but right around Valentine's Day,
London
gives the City of Lights a run for its money in the romance department. Think London is all about wearing tweed, keeping a stiff upper lip and downing a room-temperature pint? Think again!
This winter, England's capitol is going Eastern Bloc with Smirnoff's Black Winter Ice Lounge —a cool place to keep each other warm.
So rent a stylish
vacation rentals nearby in Canary Wharf
, put on a faux fur Russian hat and find out for yourself just what inspired the Beatles to write "Back in the USSR."
Smirnoff's Black Winter Ice Lounge is a luxurious, sexy seasonal space set up in the Plateau Restaurant in chic Canary Wharf. The rooftop lounge has a wall of windows, dazzling views of the Thames and the area's architectural wonders, and Russian-inspired décor that will make you temporarily forget that St. Paul's Cathedral is not in St. Petersburg.
The lounge's white chairs and soft lighting are a perfect complement to the wintry elements outside, and the "fur" blankets (as warm as the real thing) will have you cuddling up close to your traveling companion or squeezing onto a sofa with a few of your closest (or newest!) friends. Of course, you may want to throw off your fake bearskin and head to the bar for some Slavic snacks and vodka cocktails made exclusively for this event. Then again, there's nothing wrong with simply snuggling up and soaking in the scenery.
The best part of it all? When you leave the lounge, you can trade the caviar for some fish and chips and the chilled glass of vodka for a warm cup of tea. This is London, after all! The way to make the most of it is to stay in an apartment rental in Canary Wharf. Some suggestions are:
• An absolutely striking 2-bedroom accommodation in Tower Hamlets-Canary Wharf (LN-625) in a stylish, serviced residence with river views (overlooking the iconic Millennium Dome), spacious rooms, a fully fitted kitchen for candlelit dinners, a bathtub for some serious unwinding and a stereo to show off those dance skills. Perfect for two couples.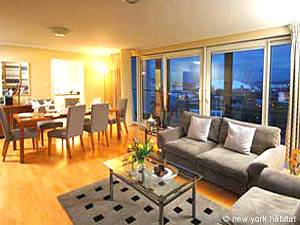 London Accommodation 2-bedroom rental in Tower Hamlets- Canary Wharf (LN-625)
• Can't stand to be too far from each other? Stay in this amazing vacation rental studio in Tower Hamlets-Canary Wharf (LN-610), where you'll fall in love with all the little details: a pull-down double bed, fantastic furnishings, under-floor heating and a power shower.
Romance, Russia and New York Habitat vacation rentals—just three more reasons to fall in love with London this February.
Check out upcoming articles on London, the City of Love…and share your favorite romantic spots with a comment below. (Don't worry—we promise not to tell everybody!)