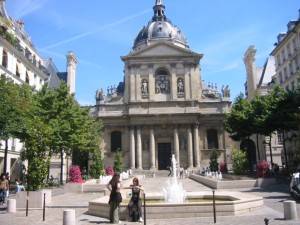 The Sorbonne in Paris: Latin Quarter
Your journey starts on the place de la Sorbonne in Paris, a small square overlooking the entrance to the famous university
, which started out in the 13th century as a theology college for destitute students. A clothing store now shares the space with cafes and bookstores, but the plaza remains a good starting point to explore the 
Latin Quarter
.
Venture in the nearby rue de la Sorbonne and you might be allowed to enter the lovely 17th century college courtyard. On weekdays, it is teeming with students reading on the stone steps or rushing to class in the college's stately amphitheaters.
Linking the square to the rue des Ecoles is the narrow rue Champollion, a lovely alley that packs not one but three Latin Quarter independent movie theaters, where students and professors attend retrospectives of filmmakers like François Truffaut or Fritz Lang. To see what's playing at Le Champollion, which everyone calls Le Champo check out their website . For a cheap after-movie beer and "croque-monsieur" (a toasted ham and cheese sandwich), head to Le Reflet, on the same street.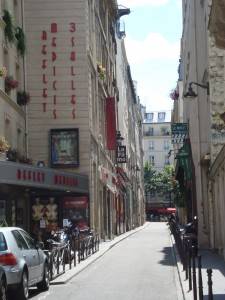 Cinemas on Rue Champollion
From place de la Sorbonne, you are just a short stroll away from the
Panthéon, a neo-classical building where numerous French luminaries, including Voltaire and Descartes are buried.
Behind the imposing square are charming little streets you would not want to miss. Take rue de la Montagne Sainte-Geneviève, for instance, and stop for coffee at Gaudeamus or for a meal at Les Pipos , a laid-back wine bar and bistro that often features live music. Another option is La Méthode, which has a terrace overlooking the former building of Ecole Polytechnique, the French equivalent of MIT.
Whether you are traveling alone or with your family and friends, these New York Habitat accommodations in the Latin Quarter of Paris – from a cozy studio to a luxurious two-bedroom – will allow you to explore the area in depth.
One-bedroom duplex apartment in Sorbonne-St. Michel area (PA3236)
Studio vacation rental in St-Michel – Notre Dame area (PA3842)
Two-bedroom accommodation in Port Royal-Luxembourg-St.Michel area (PA3703)
What are your favorite activities in the Latin Quarter of Paris? Comment below.