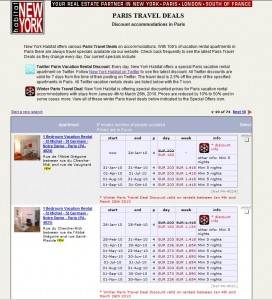 Paris Travel Deals Website
Are you looking for the best deal  for your next trip to Paris? Look no further then the New York Habitat Paris Travel Deals Website. We are always looking for the best deals on apartments and vacation rentals in Paris and we have collected all of the specials on the new Paris Travel deals website.
There are two promotions available right now:
• Paris Twitter Vacation Rental Specials: This promotion offers 2.5% off the price of select vacation rentals in Paris. You can find all of the offers on our Twitter micro blog or on the Paris Travel Deals Page
• Winter Paris Travel Deal: Since there is less demand for accommodations in Paris in the winter, many property owners are looking to offer their apartments at special discounted rates. If you are looking for a great travel deal to Paris consider a trip between January 4th and March 26th. Some vacation rentals have been discounted by as much as 30%.
Follow the latest deals on the Paris Travel Deals page to find all of the latest and greatest special prices on hotel alternatives in Paris. To rent an apartment in Paris complete an apartment request form or call us at +1 (212) 255-8018 to speak to one of our agents. We will find a great accommodation in Paris at a great price.