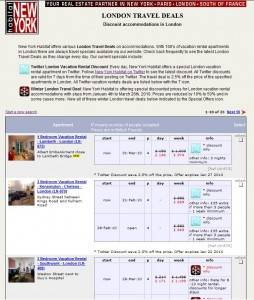 London Travel Deals
If your New Year's resolutions included traveling more this year and saving money, you're in luck. New York Habitat is here to help turn both of those resolutions into reality! Though any one of our hundreds of vacation accommodations in London is a good choice, this winter we're offering London travel deals that change every day, save you money—and make staying away almost impossible!
Our specials include the Twitter London Vacation Rental Discount, which features a different accommodation each day at 2.5% off the usual price. The offer is good for up to seven days after the original posting, but there's no reason to wait anyway! To find these selected apartments, follow us on Twitter or look for the Twitter symbol shown in our listings.
New York Habitat is also offering our Winter London Travel Deal for stays between January 4 and March 26, 2010. These prices are reduced by 10% to as much as 30%—and, in some cases, even more. Look for the Special Offers snowflake symbol in our listings in order to save a bundle—and stop looking for excuses to postpone that trip to London any longer.
To give you an idea of some of the stellar vacation rentals we feature with incredible savings, check out these convenient and low-cost New York Habitat flats in London:
• A lovely 2-bedroom rental accommodation in West Brompton, Kensington-Chelsea (LN-426) on the ground floor of a modern terraced townhouse only three minutes' walk from the nearest tube station. This rental has a laundry/dryer, two double beds and an outdoor garden. Past clients have raved: "The apartment was excellent, less than 100 meters to the underground station, bus at the front door, handy to supermarkets and restaurants. Quiet, roomy and very clean—a great base when staying in London. We will stay again"; "The apartment was good. I found it clean and bright and well kept…also a good value for the price."
• A cheerful studio in Bloomsbury, Westminster (LN-868) on Red Lion Square. This lower-ground-floor flat features a double trundle bed, a bathtub as well as a wall-mounted shower, and a laundry/dryer. It is within easy walking distance of all of the attractions in Leicester Square, Covent Garden, Soho and Oxford Street.
• A bright and spacious 2-bedroom vacation rental accommodation in the City (LN-1102), just a few minutes' walk to St. Paul's Cathedral in historic London. This flat comes complete with 1 double bed, 1 king bed, and a double sofa bed, open-plan kitchen, dining space, and wooden floors.
It's always a good time to visit London—but New York Habitat just made it that much better with our winter deals and discounts! Keep your resolutions and start the year off right in one of our amazing London vacation rentals.
Check out the London Travel Deals webpage often as the specials are always changing and you do not want to miss out on some spectacular offers. If you are interest in one of our vacation rentals fill out a request form or call us at +1 (212) 255-8018 and an agent will help you find a perfect London Travel Deal in one of our many accommodations.