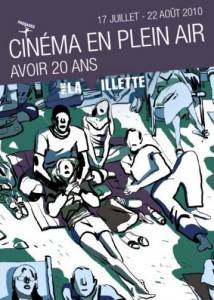 Paris is a film lover's playground. The city is home to dozens of art house movie theaters as well as the big-box cinemas showing Hollywood films Americans are so familiar with. A walk around the city also reveals French cinema history as visitors find themselves in the same streets where filmmakers like Francois Truffaut and Jean Luc Goddard captured scenes from their seminal Parisian films. In a nod to Paris' cinematic history, but also just an excuse to enjoy one of the city's best parks, The Parc de la Villette hosts the annual open-air film festival, an immensely popular sortie for Parisians and out-of-towners alike.
From July 17th to August 22nd the Parc de la Villette, in the 19th arrondissement, will offer a way to discover one of Paris' finest parks, be entertained in a social setting and participate in a truly Parisian experience. The park's cinéma en plein air (open-air cinema) festival celebrates the French love for cinema and al fresco dining. Families, couples and bands of friends gather on the parks pelouse to watch films projected on a giant outdoor screen. This year's theme is "to be 20" and features films from across the globe exploring themes of youth and self discovery at and around the tender age of 20-years-old. This year's offering includes films by American filmmakers Woody Allen and Sofia Coppola as well as French and international greats. Films are always free and open to the public and attract a diverse crowd of movie-goers and park enthusiasts.
Late July is a wonderful time to be in Paris; the air is dry and warm and the August vacation season hasn't emptied the city of everyday Parisians. For New York Habitat apartments, it is also one of the busiest times of the year. Paris accommodation hunters should get their search going right away. Listed below are a few Paris apartments to help get your search started.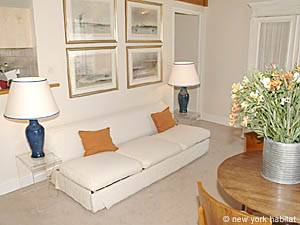 Photo of Paris Vacation Rental (PA-2834)
-This
1-bedroom Paris apartment in Montmartre-Sacre Coeur (PA-
3387)
has infinite charm and a wonderful location in the
Montmartre
district.
-This Paris studio accommodation in Saint Germain des Pres, St Michel- St Germain- Notre Dame (PA-3825) is short on frills but has rates at a fraction the cost of many neighboring hotels. The apartment also features exposed wood beams and an updated kitchen.
-This Right Bank Paris studio apartment in Place des Vosges, Marais-Les Halles (PA-2834) features a duplex layout, exposed wood beams and impressive views.