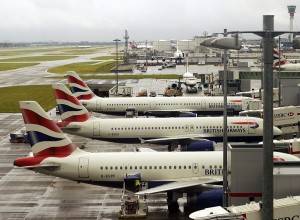 London Heathrow Terminal 5
London is full of transportation options including 5 airports, several main rail stations and of course the underground. When arriving to London determining the best way to get from the airport to your accommodation in London is important and taking public transit versus a cab or car service can often save time and money. Below are some of the best ways to get from each of London's airports to the city center and on to your apartment.
London Heathrow:
London Heathrow is the main international gateway airport to London and is also the busiest airport in Europe as well as one of the busiest airports in the world. In recent years new infrastructure has been built to provide faster journeys for the 14 mile to Heathrow airport from the center of London.
Heathrow Express:
The fastest and most expensive way to get to Heathrow by train is the Heathrow Express which takes just 15 minutes from London's Paddington Station. The cost is £18 each way, but the train does have free wifi access and your cell phone will work on the whole journey even in the tunnels. Service runs every 15 minutes, so you won't have to wait long for a train.
Heathrow Connect:
If you are looking to save a few quid and have a few extra minutes, choose the Heathrow Connect. This train takes a bit less than half an hour but only costs £7.90. This train follows the same route as the Heathrow Express but makes several stops along the way before reaching Paddington Station. The service operates twice an hour, so you may have a longer wait then the express. Plus, it is the perfect ride if you rented an accommodation in Paddington since you will arrive right there.
The Underground:
The Piccadilly Line of the underground runs directly to Heathrow airport. Travel times from the center of London range from 40 minutes to 1 hour depending on where you pick up the subway. The cost varies depending on which zone you are traveling to, but to central London the fare is about £4. Some people actually find that the subway is faster than the express train because it takes them closer to their destination. For example if you are staying in South Kensington or Knightsbridge, the subway makes direct stops and if you are stay in Westminster 1 easy transfer can get you there in a breeze.
Taxis and Buses:
Of course for those who prefer to traverse the roads there are plenty of buses to different parts of London, but they are slow compared to the train. Finally if you have a lot of baggage or just prefer a private ride into London there are plenty of cabs available at the airport. The cost of a cab is generally between £50 and £60 but that depends on where you have to go and the traffic. Cabs can take from 30 minutes to almost 2 hours in bad traffic.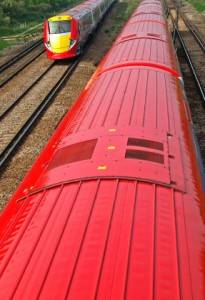 Gatwick Express Trains passing on the way to Gatwick Airport

London Gatwick:
London's Gatwick airport is located about 30 miles to the South of London. It is the 2nd busiest airport in the country. Public transit options include rail services and buses. Below you will find more about each.
Gatwick Express:
The Gatwick Express train runs to London's Victoria Station every 15 minutes and takes 30 minutes to arrive. The cost is £16.90 but you can save 10% by booking on-line. The advantage of the Gatwick Express is that it has regular service every 15 minutes.
Other Trains:
Three other train companies serve Gatwick airport. Southern Rail is the most useful for traveling to central London. Their trains stop at Victoria station as well as London Bridge Station in Southwark. If you know exactly which train you would like to take you can get a deal by making an advanced booking. Fares are as low as £4 for advanced online bookings. Last minute fares at the station are almost identical to the Gatwick Express.
Buses and Taxis:
As with Heathrow there are plenty of buses serving Gatwick, but are generally slower than the train service. Taxis are quite expensive to central London. Expect to pay close to £100 and have a ride of a bit over 1 hour.
Since London has so many gateways, we will split this article into 2 parts. Check back next week to read about Luton, Stanstead and London City airports.
Do you have a tip about the best route from Heathrow or Gatwick airport, maybe a discount code for a cheaper train ticket? Share with us below.