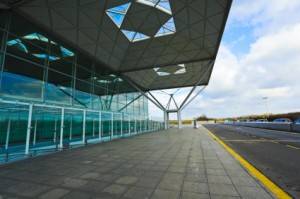 Stanstead Airport Main Termial
Last week we looked at the best routes from London's 2 largest airports to many of our apartments in London, and this week we want to look at routes from London's secondary airports including Luton airport, Stansted Airport and London City Airport. Luton and Stansted airports tend to be popular with low cost European carriers while London City Airport is popular with the financial groups working at Canary Wharf.
Stansted Airport:
Stansted Airport is located to the northeast of London and is the 3rd largest airport in London. If you are flying on Ryanair there is a high probability that you will fly through Stansted as it is one of their bases. There are several transit options to and from Stansted including:
Stansted Express:
The Stansted express train travels from the airport to Liverpool Street station in the City, in central London, as well as Tottenham Hale station, to the northeast of London, where connections to the Victoria Line can be made. The typical fare is £19 but if you search the internet you can often find discount fares. For example as of today you can get a fare of £16 on the Ryanair website.
Buses and Taxis:
There are several bus routes that travel to London from Stansted Airport. Take a look at the different schedules when you arrive to find the best options. A cab can be an expensive option from Stansted to the center of London. Expect to fork out about £100 for the journey.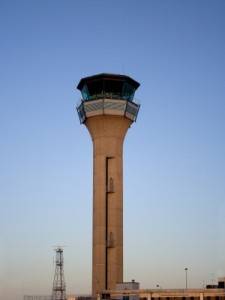 Luton Airport Control Tower

Luton Airport:
Luton Airport is located about 35 miles north of London and is the 4th busiest airport in London. Like Stansted Airport, Luton is the base for many low cost carriers including EasyJet, Monarch, Thomson, Ryanair and Wizz air. There are plenty of transit options to London including:
Rail:
Luton Airport is served by the Luton Airport Parkway rail station which is about 1 mile from the airport. There is a shuttle bus that connects the terminals to the train station. The fastest trains take less than 30 minutes to reach London St. Pancras Station by the edge of West End, and from where you can connect to many subway lines. The fare is £12.
Buses and Taxis:
There are several bus lines that travel to Luton airport including National Express and Greenline. Both offer services to different points in London. Taxis, to central London, cost around £80.
London City Airport:
Located in the heart of London, City Airport is the smallest of the commercial airports but for many the most convenient. The airport is a short journey from London's new financial home at Canary Wharf. British Airways even offers a special all business class service from New York to City airport. Here are some of the travel options: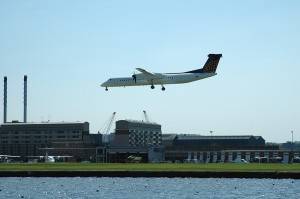 Plane landing at London City Airport

Docklands Light Rail:
Docklands Light Rail is a train system running in the Eastern End of London which is above ground. The train has a direct stop at London City Airport making it quite convenient. The train reaches Bank station in 22 minutes from the airport and connections are available there to stations around the city. The fare is a maximum of £4 but you can save by using an oyster card. Canary Wharf is about 15 minutes from the airport via DLR though you will need to switch trains at either Poplar or Canning Town.
Taxis:
For a private ride from London City Airport there are cabs available. Fares to Canary Wharf are a reasonable £12 while rides to central London are generally in the £20-40 range depending on distance.
Well we hope that these article plus part 1, last week, have helped you to navigate from London's various airports to the center of the city. If you need any extra help feel free to ask one of our agents for more info and leave a comment below if you have any other tips to get from the airport to London apartments.