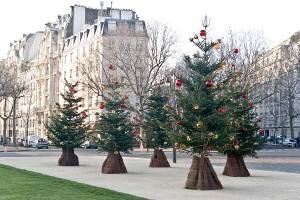 Paris Christmas Scene
Yuletide is the season when it is abundantly clear why Paris is known as the City of Light.  An evening stroll down the Champs-Elysées, the world's most luxurious shopping district, exemplifies the spirit of a light-filled Parisian Christmas.  Look south while you shop, and you'll see the Eiffel Tower dolled up in her sparkly finest.  Every hour on the hour, the famous landmark glitters in a sequined gown of tiny lights.  It's a sight that even native Parisians stop to admire.
The trees lining the Avenue des Champs-Elysées are festooned every Christmas with garlands made up of thousands of lights.  These magical twinkle lights turn la plus belle avenue du monde (the most beautiful avenue in the world) into a fairy land of Christmas fantasy.  With the Arc de Triomphe lit up at the head of this famous, tree-lined avenue, and the cheery sound of conversations in languages from all over the world surrounding you, you will certainly feel good will toward men.  It seems like the whole world does its Christmas shopping on the avenue named for heaven in Greek Mythology.  And why not?  From the flagship Louis Vuitton store, with its renowned bags, clothing and jewelry, to the selection of cosmetics at Sephora, which is the secret behind the famous beauty of Parisian women, to the Virgin Megastore's unparalleled collection of CDs and DVDs, there is something here for every shopper.
Once you have found a present for everyone on your list, stop in a café for a hot drink, and watch as the world passes by with "Joyeux Noël" on their lips and Christmas parcels in their hands.  You couldn't ask for a better gift to yourself than to spend the holiday in the most romantic city in the world.  New York Habitat has vacation rentals available for this holiday season.  A furnished apartment would provide an ideal getaway to the City of Light for Christmas.  Celebrate in style in the most stylish city in the world.
Christmas is a busy time of year, but there are still several apartments available in the 8th arrondissement and within easy walking distance of Avenue des Champs-Elysées.  Here are a few beautiful Paris vacation rentals to get your search started for the perfect holiday retreat:
This cozy Studio Vacation Rental-Champs Elysées-Paris (PA-3576) has beautiful parquet floors, and a gorgeous street view.
This elegant and modern 3 Bedroom Vacation Rental-Champs Elysées-Paris (PA-791) features hardwood floors, a courtyard, spacious rooms and accommodation for five.
What are your favorite christmas activities in Paris?