Doing your holiday shopping at the Christmas markets scattered all across Paris will not only make you the favorite gift-giver this season, but it will also provide you with a Yuletide memory you will treasure forever.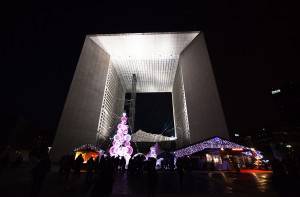 Arche de La Dèfense Christmas Market photo
The Christmas markets (Marchés de Noël) began as a way for rural Frenchwomen to gather all of the special ingredients that they would need to cook the traditional Christmas dishes for their families.
Although the markets have grown to include handcrafted gifts, toys, ornaments and cards, there is no denying the foodie pasts of these markets—they are still a feast for the senses.
One of the largest, and perhaps the most impressive of the Parisian Christmas markets is situated at Arche de La Défense.  Complete with an ice rink (so you can shoo the kids off to play while you buy their presents), this market twinkles with thousands of bright lights within the heart of the surreally beautiful towers of La Défense.  The enticing aromas of sausage will lead you to your mid-shopping snack while you take in the sights of over two hundred vendors of traditional, original and hand-craft French gifts and decorations.  You can even have your picture taken with French Santa Claus.  This is a shopping experience like no other.
If food is central to your celebration, stop by the Marché de Noël Montparnasse, at the foot of the Tour Montparnasse.  There you will be able to taste the pride of local vintners, farmers and bakers in the form of wines, cheese, meats and cakes.  Eat your fill there and take home packaged treats to share with your dear ones on Christmas day.
Of course, no shopping trip to Paris is complete without a stop at the Avenue des Champs Élysées, and the Christmas market there certainly does not disappoint.  With rides like the Ferris wheel at Place de la Concorde, a miniature roller coaster, and of course, the picturesque and oh-so-French carousel, this is a shopping excursion the children will love.  Buy hand-knit sweaters and handmade Christmas cards for everyone on your list while you nibble on one of the myriad different types of chocolate available.
Ready to start planning your Parisian shopping trip?  New York Habitat has furnished apartments in Paris within easy distance of each of these Christmas markets.  Check out these vacation rentals for your Yuletide getaway:
Stay for a while in this cozy and charming Alcove Studio Vacation Rental – Champs Élysées – Gare Saint Lazare – Paris (PA-3291).  With light-filled rooms, a modern sensibility and a gorgeous courtyard, you could consider your stay here just a little Christmas present to yourself.
Enjoy a Merry Christmas with the entire family in this 3 Bedroom Vacation Rental – Batignolles – Ternes – Paris (PA-1377).  With a piano that all the carol-singers can gather round, room for six, and beautiful details like marble fireplaces and hardwood floors, only a Grinch would want to stay anywhere else.
Enjoy a relaxing holiday in this 1 Bedroom Vacation Rental – Montmartre – Sacré Coeur – Paris (PA-684).  This charming apartment features built-in bookcases, airy windows, and a view of Sacré Coeur.  Merry Christmas!
What is your favorite Parisian Christmas tradition?  What French Christmas crafts are one your wish list this year?