In this video tour, we are going to explore a slightly lesser-known area of Paris, Ile-Saint-Louis, which is special more for its charming atmosphere than for its sights.  In our video tour we will explore Ile-Saint-Louis, the little island in the Seine directly behind Notre-Dame Cathedral.

Video Tour of the Ile-Saint-Louis in Paris(6:41)
Located in the 4th arrondissement, Ile Saint Louis was once a cow pasture, but during the reign of Louis XIII three entrepreneurs had the idea of building their homes on the island and soon elegant townhouses were built. It is beloved for its quiet streets and picturesque riverbanks. If Paris is the city of romance, then this is its most romantic spot in the city.
The Classic Townhouses on Ile-Saint-Louis
Dating back to the seventeenth century, the island's buildings are for the most part townhouses built for members of the rich middle class, many of them officials who worked for Louis XIV. Since those times, the island has had many illustrious residents such as the poet Baudelaire,  physicist Marie Curie and Voltaire. In the 1920s it was a favorite haunt of Hemingway. Ile-Saint-Louis continues to be a very sought-after and fashionable place to live, attracting Georges Pompidou, the late president of France as well as, Roland Dumas a famous politician and many actors and comedians.
Most of the townhouses were built by the famous architect brothers, Louis and François Le Vau and, at the time of Louis XIV. The narrow fronts overlooking the river are deceptive, though, as the houses are deep and have courtyards hidden behind the entrances. All of the 4th arrondissement offers lovely accommodations to anyone looking for the perfect Parisian trip.
Definition of "Hôtel"
Many historic buildings in France have the word "Hôtel" in their names.  This does not mean they are actually hotels; in French "hotel often refers to a prestigious single family residence or mansion.
The Hôtel Lauzun (17 quai d'Anjou)
The Hôtel Lauzun is just such a mansion. One of the most beautiful in all of Paris, the mansion is famous for two things: its exquisite baroque interior and its later residents. You can take a guided tour of the mansion every Tuesday. Baudelaire lived here while writing some of the poems of his famous Flowers of Evil (Les Fleurs du mal).
3 quai d'Anjou
The house at 3 quai d'anjou was designed by and the personal residence of Louis Le Vau.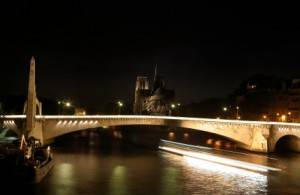 Photo of Ile-Saint-Louis at night
The Hôtel Lambert (1 quai d'Anjou)
Another of Paris' finest mansions is the Hôtel Lambert. In the nineteenth century, the Polish government bought the mansion and welcomed Polish exiles such as the musician Chopin and the poet Adam Mickiewicz, together with their French friends. This mansion had a large garden, which was unusual for a mansion on the island, as there was so little space.
24-26 quai de Bethune – Pompidou Residence
The building at 24-26 quai de Bethune was built on the site of a beautiful mansion also designed by Louis Le Vau.  All that is left of the old mansion are the door panels, but they are considered the loveliest doors on the island. This is where the late president of France, Georges Pompidou, lived.
The Polish Library and Adam Mickiewicz Museum (6 quai d'Orléans)
The Polish Library Building also houses three museums in one, the first devoted to the Polish poet Adam Mickiewicz, the second to Chopin, and the third to artist Boleslas Biegas. It can be visited on Thursdays.
New York Habitat has many Paris vacation rentals both on and around Ile-Saint-Louis where you can make your home during your stay in Paris. So, skip the hotel and live like a real Parisian by renting your own "hôtel" in the heart of Paris.
This furnished studio apartment (PA-4141) is located on Ile-Saint-Louis. The apartment is furnished with 2 single sized sofa beds and a double bed and also includes a fully-equipped kitchen with all of the necessities to prepare a meal in the apartment and feel right at home.
This furnished 2-Bedroom Apartment (PA-2321) is also located Ile-Saint-Louis. This apartment features both hardwood and tiled floors, as well as high ceilings and exposed wood beams. With a fully equipped kitchen and accommodations for up to 4 people, this is a great apartment to call home during your stay in Paris.
After walking around the island, many people will seek out some fun in the central main street, with all its life and bustle. This street, called rue Saint-Louis-en-l'Ile, is now lined with specialty shops and boutiques, including a toy store, a handmade puppets shop, chocolate shops, bakeries, cheese shops, gift shops, art galleries and a number of restaurants.
Ice Cream
You may want to sample the ice cream for which  Ile-Saint-Louis is famous. The Parisians deem it to be the best in Paris. A favorite is  Berthillon ice cream which has its headquarters on  rue Saint-Louis-en-Ile. If you don't want to wait in the lines at the Berthillon store, there are plenty of other vendors that offer Berthillon ice cream on the island.
L'Eglise Saint-Louis-en-l'Ile
The Saint-Louis-en-l'Ile church, designed once again by Le Vau was dedicated to King Louis IX, who after his death was made a saint. The front, hemmed in by buildings, hides a white interior, highly decorated with gilt, and filled with works of art and other treasures. It is a splendid setting for the many concerts given here throughout the year.
Restaurants
One of the greatest pleasures of the Parisians is dining out and you'll probably want to do likewise during your visit. Several good choices on Ile-Saint-Louis are:
Le Tastevin, 46 rue Saint-Louis-en-l'Ile, is a spot for good traditional French food. Reserve in advance, as it is popular.
L'Ilot Vache, rue Saint-Louis-en-l'Ile, offers excellent classic French food and a good wine list. As befits the name, there is a collection of cows inside, and every table is decorated differently. Again, be sure to reserve in advance.
L'Escale, 1 rue des deux Ponts, is a wine bar-bistro with daily specials. This is the closest it gets to Hemingway's type of haunt here on the island.
Nos Ancêtres les Gaulois, 39 rue Saint-Louis-en-l'Ile, is a restaurant commemorating the ancient Gauls who inhabited the Paris area. It's fun and noisy with unlimited grilled meat and wine from the barrel. Vegetarians beware!
I hope that our video tour has made you want to come to Ile-Saint-Louis and experience this beautiful romantic island for yourself. Be sure to leave us your feedback in the comments section below if you have visited the area and know of something that has been left off of today's video tour.
We hope to see you soon enjoying an ice cream on the banks of Ile-Saint-Louis in Paris!
Related apartment rental posts from New York Habitat: