Today we are going to wrap up our video tour of the beautiful Paris neighborhood known as Saint—Germain-des-Prés. This is the third episode of our 3-part series on Saint-Germain-des-Prés, so be sure to check out the 1st Part of our Saint Germain des Prés Tour and Part 2 of the Saint Germain video tour if you haven't yet watched them. You can find them on the New York Habitat YouTube channel of the New York Habitat Blog.
Video Tour: Saint-Germain-des-Prés – Part 3(5:54)
Once a large monastery and a tiny market town, the French name of this city means "St Germain in the meadows". This is a fitting name for this area outside of the city walls, just south of the Seine and west of the Latin Quarter. The monastery was founded in 532 A. D. by Childebert, the second king of France. Over time, it gained power, but did not survive the Viking raids of the 9th century. The monks then camped in the ruins until 990 until the time when the monastery was eventually rebuilt by King Robert the Pious.
The town between the monastery and the city was a lively center. Soon, theaters began to appear and by the 17th century the town erected an  opera house, Moliere's first theatre and the first Comédie Française. The area also became a center for literature and others arts.
Shopping in Saint Germain des Prés
On the boulevard Saint-Germain, you may want to window shop at Emporio Armani or Louis Vuitton, among others. But if you're looking for some smaller French designers, have a look at the shops on rue de Four and rue Bonaparte. If it's food you are after, there are plenty of interesting food shops: pastry shops, delicatessens and specialty food shops such as delicious up market chocolate shops like Debauve et Gallais (30 Rue des Saints-Pères 75007) or the rebel chocolate maker Patrick Roger (108 Boulevard Saint-Germain 75006).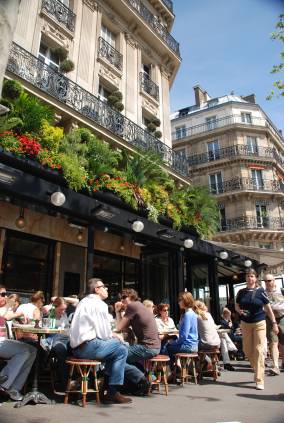 Cafe in Saint Germain des Pres

The rue de Buci
The rue de Buci is one of the liveliest in the area. A food market during the day, it is also a great place for pastries and desserts, delicatessen items and ice cream. For something more vivacious, the bars and cafés are also very hip places in the evening.
Le Procope – Rue de l'ancienne Comédie
Le Procope at number 13 Rue de l'ancienne Comédie is the oldest existing café in Paris, founded in 1686. Parisian cafés go back to 1672 when 2 Armenian brothers introduced a new, exotic Arabian drink to the city. 50 years later, there were over 600 luxury coffee shops. Le Procope attracted writers La Fontaine, Voltaire, Diderot and Benjamin Franklin. Even Napoleon Bonaparte and Oscar Wilde came here.  Now a restaurant, it has portraits and memorabilia covering the walls.
Cour de Commerce
If you walk around the corner on Saint Andre des Arts you can see the other side of the restaurant and the quaint passage way Le Cour de Commerce, one of the only covered passageways on the left bank. It was here where Dr. Guillotin perfected his new invention, the dreaded guillotine.
Vacation Rentals in Saint Germain des Prés:
The best way to recover after a long day of shopping in Saint-Germain-des-Prés is to go home.  And a "home" is exactly what you get when you rent a furnished apartment in the heart of Saint Germain des Prés. New York Habitat offers vacation rentals and furnished apartments in Saint-Germain-des-Prés and all over Paris.   There is no better way to experience the true flavor Paris than to live in a true Paris apartment.
Take a look at this 1 bedroom vacation rental in Saint Germain, Paris (PA-1045). It is on the top floor of an elevator building and has the luxury of air conditioning for those hot summer days. With modern furnishings and a lot of light, this apartment would be a great place to provide the experience of living in Paris.
Finally, you might enjoy this 1 bedroom Saint Germain. Paris apartment (PA-3216) that is situated on the ground floor and is furnished with a queen sized bed in the bedroom and a double sized sofa bed in the living room for more sleeping accommodations. And of course this vacation rental also includes a fully equipped kitchen so that you have the opportunity to prepare a meal in your own living area.
The Restaurants of Saint Germain
You're sure to work up an appetite with all of this walking.  Some good choices for provisions are:
Restaurant Polidor (41 rue Monsieur-le-Prince) – for reasonably-priced traditional food and atmosphere.
Le Comptoir du Relais (9 carrefour de l'Odéon) – for inventive, contemporary food by a well-known chef.  You can enjoy drinks before your meal at l'Avant Comptoir next door.
Le Bistrot Mazarin (42 rue Mazarine) – patronized by the Parisians for its good food and wine.
Cafe Jade (10 rue de Buci) – great for a quick lunch.
And finally, Le Petit Zinc (11 rue Saint-Benoit) – a charming, tasteful restaurant close to the church.
Thank you for joining me for this final installment of our video tour of the Saint-Germain area, a neighborhood where history and culture meet. If there are any other places you like to visit in this neighborhood, feel free to leave a comment in the comment section below.
We look forward to seeing you shopping and going to the theatre soon in Saint-Germain-des-Prés.