This is the second part of a three part video series dedicated to the Paris neighborhood of Saint-Germain-des-Prés. If you haven't yet watched the first episode, you can check it out at Saint-Germain-des-Prés video tour article 1. You can also watch Part 3 of our Video Tour of Saint-Germain-des-Prés here.
Video Tour of Saint Germain des Pres, Paris, France – Part 2(5:18)
Saint-Germain-des-Prés is the area just south of the Seine and west of the Latin Quarter. Prior to its current state, this area was once a large monastery and a tiny market town.
The name Saint-Germain-des-Prés translates into  "Saint Germain in the meadows" in English, helping to explain the neighborhood's location just outside the walls of the city.
Rue de Rennes
The rather busy road leading to the Montparnasse Tower is the rue de Rennes. In its smoky cellars, New Orleans jazz and bebop were introduced to Paris by Miles Davis and Duke Ellington. From the 1950s, the cellars were the place to hear anti-establishment singers like Gainsbourg, Brassens and Brel. Today, the jazz cellars and bohemian atmosphere have been replaced with clothing, shoe and accessory boutiques.
The Place de Furstemberg
If you're looking to visit some offbeat streets in the area, walk along the Saint Germain Church on rue de l'Abbay.  You'll come to a charming square, the Place de Furstemberg. Number 6 is where the artist Delacroix had his last apartment and studio, now home to the Delacroix museum.
Also, it is worth stopping to have a look on the corner of the square and rue Cardinal, where two American expatriates of the 1920s, Harry and Caresse Crosby, set up a printer that published works by D.H. Lawrence and James Joyce, and letters by Proust and Henry James.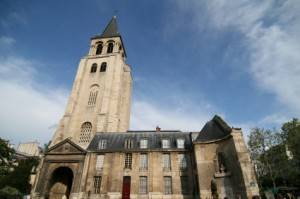 St. Germain des Pres Cathedral, Paris
The Rue de Seine area
The rue de Seine, and the streets leading off it, are renowned for their art dealers. The small galleries are great for browsing and buying. Some are entirely private owned, while many others are subsidized by the Saint-Germain area artists collective. Those that receive funds can be distinguished by a sign saying "Art Saint-Germain".
Furthermore, George Sand lived at number 31 when she first came to Paris to become a writer. She was a highly successful novelist, but also known as the mistress of several important people, including Chopin.
Walking all around the busy streets of Paris can tire you out. It would be nice to have an apartment to call home during your vacation and New York Habitat has many to offer in the Saint-Germain-des-Prés area and all throughout Paris.
One good choice is this furnished apartment rental,  a studio (PA-3190) located in the heart of Saint-Germain-des-Prés, Paris. The apartment is situated on the 5th floor of a 6-story elevator building. The apartment has a lofted bed to create more living space and also has a fully equipped kitchen including a dishwasher and washing machine.
Or, take a look at this 1-bedroom vacation rental apartment in Saint-Germain, Paris (PA-3783). This rental is on the second floor of a 4-story low-rise, also with an elevator.  The bedroom is furnished with a double bed and the living room also has a double sized sofa bed to provide for additional sleeping arrangements. This apartment has a washing machine, cable TV and a dining table perfect for eating a home-cooked meal after a long day on the town.
Also, we have this 1-bedroom vacation rental in the Saint-Germain neighborhood of Paris (PA-2301). The apartmentalso has  the luxury of an elevatorIt is on the 3rd floor and comes furnished with a queen sized bed, a double sized futon and a fully equipped separate kitchen.
The Odéon Theatre
The final stop in this part of the Saint Germian Video tour is the Odéon Theatre.  After being inaugurated by Marie-Antoinette in 1782 and a couple facelifts in the 1800s, we come to the theater today which is most recognizable for its massive neo-classical columns. The play The Marriage of Figaro was staged here for the first time.
I hope that you have learned more about the neighborhood of Saint-Germain-des-Prés, and inspired you to visit Paris. There are many features and a lot of culture in this area, but we have not covered everything yet. If there are any fun additions you would like to make, be sure to leave a comment in the comment section below and continue the visit with Part 3 of our Video Tour of Saint-Germain-des-Prés.
We hope to see you soon walking the streets of Saint-Germain-des-Prés.
Related apartment rental posts from New York Habitat: