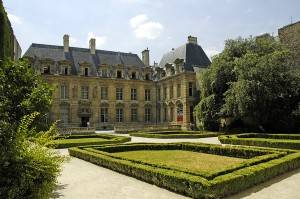 Hotel de Sully in Places des Vosges
This area of Paris may be named Le Marais – "The Marsh," but that simply does not do justice to this elegant and vibrant neighborhood.  Aristocrats founded this area and created some of the most beautiful architecture you will find anywhere in Paris.  In particular, a visit to La Place des Vosges, designed under King Henri IV in the early 17th century, can make you feel like nobility.  In the center of the square are beautiful stone fountains nestled in a beautifully kept lawn, which was once popular as a dueling ground.  These days, rather than honing your epee, you are more likely to while away an afternoon within the quiet walls of the Place by listening to the light murmur of the fountains and the hushed sound of footsteps within the arcades.  A light lunch at Ma Bourgogne, located at the northwest point of the square and considered to be one of the best cafés in Paris, will certainly help you forget your duel.
Originally named Place Royale, La Place des Vosges features red-brick housefronts with stone quoins—the first residential square with houses designed to follow the same specifications.  This design, along with the vaulted stone and brick arcades beneath the homes, evokes the sense of what France is all about: beauty, symmetry, history.  Though the two largest houses, Le Pavillon du Roi and Le Pavillon de la Reine, are closed to the public, Victor Hugo's former home in the square (number 6) is now a city-run museum and is free to the public.
Outside of the hushed beauty of Place des Vosges, there is still much to explore in Le Marais.  Many of the old aristocratic mansions survive as museums or public buildings, and each one is worth a visit.  The Hôtel Carnavalet has become a museum of the history of Paris.  There, in addition to the incredible architecture of the building itself, you can also look into the long history of Paris, from 52 A.D. to today.  Some highlights include a reconstruction of Marcel Proust's famous cork-lined bedroom where he wrote Remembrance of Things Past, the ornate cradle of Louis Napoleon Bonaparte, and several paintings of Paris's most beautiful woman, Madame de Sévigné.  Another architectural gem is the Hôtel de Sens, which is now the Forney Art Library.  Even if all you do is walk the perimeter of this late Gothic/early Renaissance medieval residence, it will take you breath away.  Of course, the most famous Hôtel in this quarter is the Hôtel de Ville, or City Hall.  The site of the city's administration is also a gorgeous example of historic architecture.  Recreate the famous Robert Doisneau image and share a baiser with your sweetheart in front of the Hôtel de Ville.
If you're ready to feel like an aristocrat, New York Habitat has Paris vacation rentals in the Marais neighborhood.  These furnished apartments will help you enjoy a vacation from the everyday while you take in the architectural beauties of yesteryear.  Paris is waiting for you!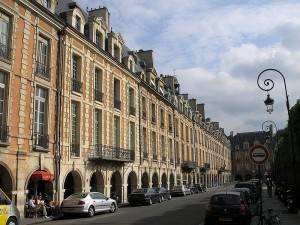 Photo of Place des Vosges in Paris
These apartments can help you start your search:
This gorgeous 2 Bedroom Vacation Rental – Marais – Les Halles – Paris (PA-877) is only steps from Le Place des Vosges.  With exposed roof beams, antique artwork, a 16th century staircase and spacious rooms, you will feel royal in this rental.
This cheery 1 Bedroom Duplex Penthouse on Vacation Rental – Marais – Les Halles – Paris (PA-4088) is located in an elegant townhouse from the XVIIth century with luxurious features. The winter garden and private courtyard garden are certainly a pull and the feeling of space is obvious throughout the apartment.
What are your favorite architectural sights in Paris?  What buildings speak to you, and what do they say?
Related apartment rental posts from New York Habitat: