Today we are going to finish up our tour of a great Paris neighborhood – the Marais. This is the second of our two-part series on the fantastic neighborhood of the Marais in Paris.  Make sure to watch the first part of our Video Tour of Le Marais in Paris.
Video Tour of Le Marais in Paris, Part 2
Rue des Rosiers
The Marais used to be an important center of Jewish Paris and is still today to a certain degree. You can see the unique Agoudas Hakehilos synagogue designed by Hector Guimard at 10 rue Pavee, just off of  des Rosiers, which used to be the one of the main Jewish streets in Paris. While many of the traditional shops have been taken over by designer boutiques, there are still some shops selling Jewish specialties. You can pick up some tasty pastries at the various Jewish bakeries or grab a falafel at the famous l'As du Falafel (34 rue des Rosiers), home to the best falafel in the world!
Further down the street is Chez Marianne (2, Rue des Hospitalières-Saint-Gervais, on the corner at rue des Rosiers), a better option for a sit down meal. Here, patrons can make their own tasting menu of Eastern Mediterranean delicacies such as hummus, grilled eggplant and vine-leaf dolmas. The kitsch art adds to the charm of this restaurant.
Gay Village – Rue des Archives/Rue de Temple
The fact that the Marais has become a trendy area with cool boutiques does have something to do with the rise in its gay population. Today, the gay community is mostly concentrated in and around rue de Temple and rue des Archives. At night, you'll have trouble finding space at two of its most popular bars – the Open Café at 17 rue des Archives and the Raidd Bar at 23 rue de Temple.
Marais Accommodations: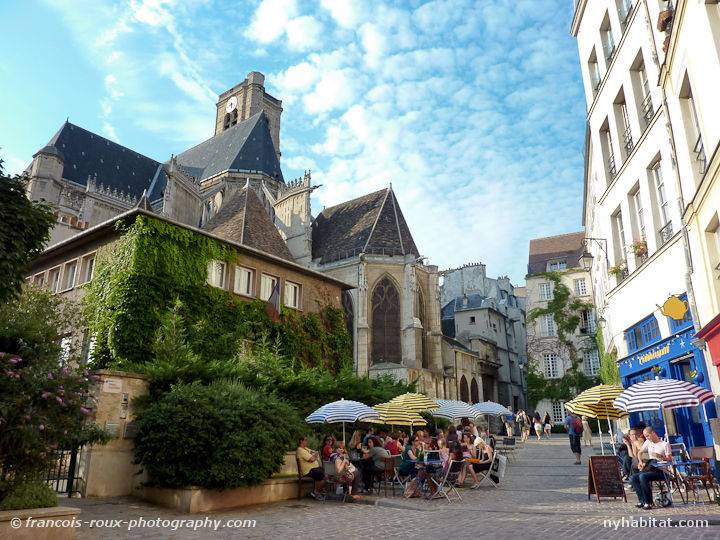 Rue des Barres in Le Marais, Paris
If you'd like to experience the Marais like a true local, you should definitely rent a
vacation rental
or
furnished apartment
. There's no better way to experience this city than to live in a real Parisian apartment.
Check out this 2-bedroom vacation rental located in Marais (PA-3142), it would be great for your stay in Paris. This accommodation offers a fully equipped kitchen including a dishwasher, a washing machine in the apartment, wood floors throughout and a flat screen TV with a DVD player; for those people who like to unwind after a long day.
Or take a look at this furnished studio Paris apartment also located in the Marais (PA-1415). Conveniently located within walking distance of many of the places mentioned in this blog, this apartment is situated on the 2nd floor of a walk-up building. The apartment has wood floors, the aesthetic of exposed wood beams on the ceiling and a kitchenette equipped with just about everything except a traditional oven, though it does have a microwave. The apartment is furnished with a double bed and a sitting chair and would be a great home for anyone on their Paris adventure!
Shopping Scene
If it's shopping you're after, this is the place to be – from antiques to vintage dresses to the coolest designer shoes, you can find it all in the Marais. In the Marais you won't find many big chain shops, rather you'll find the latest cool designers. Check out the streets around the Haut Marais/Upper Marais (rue de Bretagne/Charlot/Vielle de Temple) to see what's really going on:
Matières à Réflexion – 19 Rue du Poitou 75003
A fun stop is Matières à Réflexion where you'll find fashion and accessories made from recycled clothes
and other material.
Emilie Casiez – 57 rue Charlot
At Emilie Casiez, you'll find colorful pop art-inspired creations by a Franco-Japanese designer.
Eple & Melk – 45 rue Charlot
Head to Eple & Melk for French designs with Nordic leanings. Here you'll find cool clothes and jewelry.
A few years ago, vintage,  came back in style in Paris, and it's not surprising that the stylish Marais became the hot spot for the city's best vintage  – or in French – Frip. Here are a few to get you started:
King of Frip at 33 Rue du Roi de Sicile,
Frip'irium at 2 rue de la Verrerie,
And Freep'Star at 8 Rue Sainte Croix de la Bretonnerie.
Heading down the rue de Rivoli, you'll come to the "Bazar de l'Hôtel de Ville", or "BHV" as the Parisians call it.  This massive shopping center sells just about everything.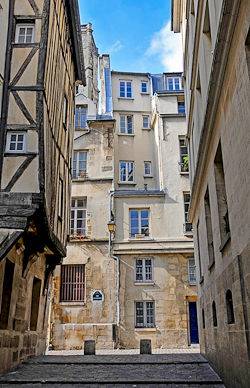 A street in Le Marais, Paris

Food, Restaurant and Nightlife
If you are staying in an apartment in the Marais you can pick up some delicious French specialties.  Rue Saint Antoine has fruit and vegetable vendors, wine cellars and great bakeries. You'll find similar shops on rue Rambuteau, near the Pompidou Center. In the Upper Marais check out the international samplings at the Marché des Enfants Rouges, the oldest Market in Paris.
Rue du Trésor
As you explore all the small streets, you'll eventually come to rue du Trésor. This is a charming passageway lined with cafés and small boutiques.
The Marais has a great array of dining options, from the take-away falafel sandwiches mentioned above to the great bistros:
Tartes Kluger – 6 Rue du Forez
Tartes Kluger, an inventive savory and sweet tart restaurant is perfect for a light, but tasty lunch on the go.
L'Ambassade d'Auvergne -22 rue du Grenier St Lazare
If you're looking for delicious French, head to L'Ambassade d'Auvergne, where you'll sample excellent food from the volcanic Auvergne region.
Breizh Café – 109 rue Vieille du Temple
The Breizh Café is one of the best creperies in town – you may find some unusual ingredients in your galette as well.

Café des Philosophes – 28 rue Vieille de Temple
One of my favorites, this cafe is great for either people watching during the afternoon or settling down for a delicious meal in the evening.
Victoire Supreme de Coeur – 27-31 rue du Bourg Tibourg
For vegetarians staying in the Marais you'll find creative dishes, salads, quiches, and other surprises at this tasty spot.
Nightlife
The Marais is also bustling in the evenings. The lower half of rue Vielle de Temple has several lively cafes and bars including:
Le Pick-Clops (16 rue Vielle de Temple) – a great place for apero with their free popcorn, they also have some nice light meal options.
Café du Tresor (5-7 Rue du Trésor 75004) – for a modern and cool ambiance.
The Lizard Lounge (18 rue du Bourg Tibourg) – head down into the basement to hang with a fun international crowd. Happy hour until 10 pm and fun dance tunes until late.
La Perle (78 rue Vielle de Temple) – La Perle is a must for anyone who wants to 'blend in' with young artsy Parisians.
Well, I hope you've gotten some ideas from this stretch of our tour of the Marais. As always, there is plenty else to see and do here.  If you can think of any of your favorite Marais secrets, please share them with us in the comments box below.
I look forward to seeing you soon, living the life in this trendy Paris neighborhood known as the Marais!