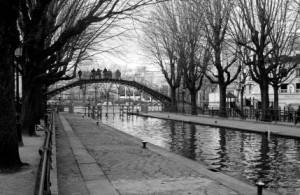 Canal Saint Martin
For an off-the-beaten-path treat, take some time to discover the Canal Saint-Martin neighborhood on your next trip to Paris.  This hidden gem may not be one of the most recognizable quarters of Paris, but it exudes a sense of elegant leisure that is oh-so French.
The center of this 10th arrondissement neighborhood is the canal, which was dug between the Seine and the river Ourcq under Napoleon's orders in the early 19th century.  At the time, there was a desperate need for fresh water, but today, the canal serves as a picturesque backdrop for Parisians and tourists enjoying a picnic lunch on its banks.  Time seems to slow down as you sip your wine, watch the boats float by, and listen to the outdoor musicians serenade you.
This neighborhood is pedestrian friendly, and you will certainly want to take a stroll over one of the seven iron footbridges spanning the canal.  In addition, if you visit Canal Saint-Martin on a Sunday, the two streets running parallel to the canal—Quai de Valmy and Quai de Jemmapes—are cordoned off exclusively for pedestrians, cyclists, and roller bladers, giving you an opportunity to see the city under your own steam.
In addition to the beauty of the canal, this neighborhood is also known for its quirky shops and restaurants.  Step into the Hôtel du Nord, a restaurant and bar that was once a hotel for the blue-collar workers and manual laborers who made up the original inhabitants of this quarter.  The façade of the Hôtel du Nord was famously reproduced in Marcel Carné's 1938 film of the same name, and enjoying a meal there today will remind you of the charm of that decade.
Fashionistas will certainly want to spend an afternoon in the clothing boutique Antoine et Lili.  The bright pink and yellow entrance has become an icon of the neighborhood, and inside you will find kitschy clothes that will make you stand out in any fashionable crowd.
If you'd like to sit back and let the secrets of this hidden neighborhood come to you, consider taking a boat tour of the canal.  These two-and-a-half-hour cruises take you through the Saint-Martin canal, as well as through some of Paris's underground waterways.  It will be an unforgettable tour of the little-known parts of a beloved city.
If you're ready to book your vacation to Paris and Canal Saint-Martin, why not let us be your host?  We have many beautiful furnished apartments within walking distance of Canal Saint-Martin.  Check out these vacation rentals to get your search started:
This bright 2 Bedroom Loft Vacation Rental – Canal Saint Martin – Gare du Nord – Gare de l'Est – Paris (PA-1278) would make the perfect getaway for your vacation.  With skylights throughout, a gorgeous patio, and built-in bookcases, you'll never want to leave this airy apartment.
If you're traveling with a crowd, look no further than this 4 Bedroom Duplex Vacation Rental – Canal Saint Martin – Gare du Nord – Gare de l'Est – Paris (PA-3485).  In this luxurious apartment, you'll enjoy a private garden, beautiful hardwood floors, and bright windows galore!
What is your favorite Parisian neighborhood?