If you're planning a trip to Provence in the spring as a way to leave this never-ending winter behind, you can actually duplicate the benefits of that well-deserved break by attending one of the numerous conventions focusing on well-being in the region. After all, why not maximize the enchanting environment by getting a few tips from the pros?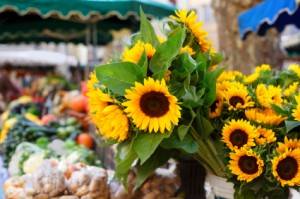 Farmers market with sunflowers in Aix-en-Provence

One of the most important salons of that kind is "Naturazen", which will take place in Aix-en-Provence from April 15 to 18, 2011. During those three days, not only will you be able to spend time in one of France's most beautiful and vibrant towns, but you will also have the opportunity to learn how to live in a more balanced life and be part of a more harmonious world, where renewable energies and environmental stewardship are not just wishful thinking but get actually implemented. More than 100 stands on topics such as natural cosmetics, organic produce, environmentally-conscious housing, personal development and literature & music will be waiting for your visit. You will also be able to attend talks on various themes revolving around how to lead and enjoy a healthier life.
But do not let all these enlightening activities keep you from visiting the town itself. From the understated charm of the Old Quarter to the sophisticated elegance of the 17th and 18th century district, Aix will leave you constantly in awe. One of France's oldest universities keeps it young and an over-flowing calendar of artistic events keeps it cultivated. Do not leave without sampling one of their famed calissons candy!
To maximize your visit to this prime destination, New York Habitat has several furnished vacation rentals in Aix-en-Provence for you to choose from.
If you're looking for a temporary pied-à-terre for one or two persons, you cannot go wrong with our 1-bedroom – Aix-en-Provence – Center – PR 1027. With plenty of restaurants and shops around the corner, you'll be able to blend in with the locals.
Are you coming with a bigger party? In that case our 2-bedroom – Aix-en-Provence – Center – PR 254, which is located at a short walking distance from the famous Cours Mirabeau,  has everything you'll need, including a DSL connection.
If you couldn't possibly imagine spending some time in Provence without a pool to cool off in and a terrace to lounge on, our 3-bedroom – Aix-en-Provence – East – PR 645 with pool, terrace as well as a garden and a parking space is just the right thing for you.
So have you made you your mind and booked that flight already? Have you been there and would like to share your impression in our comments here-under?