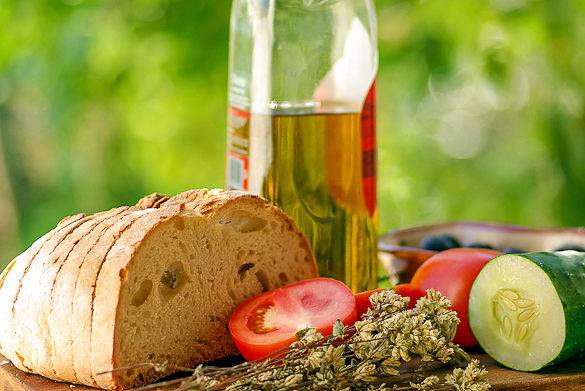 A typical outdoor meal in Provence, Southern France
French cuisine has become famous throughout the world, and you can find French restaurants pretty much on every continent nowadays. However, nothing beats the diversity and originality of dishes in the country where it all started! Within France, there are many regions with different specialties and various local ingredients. In this article, we'll highlight the culinary culture of Provence in Southern France, which has a very distinct gastronomy compared to the north and central France. Thanks to a mild climate and an unrivaled location that allows its inhabitants to enjoy fresh fish, meats, fruit and vegetables throughout the year – and let's not forget the influence of other countries around the Mediterranean Sea – the culinary possibilities in Provence are endless.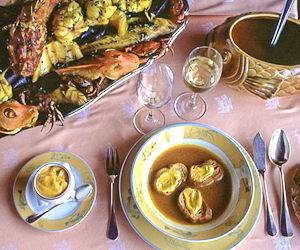 Traditional bouillabaisse with rouille in Marseille
Marseilles and Bouillabaisse
Perhaps the most famous traditional dish of the whole area is Marseilles' bouillabaisse, the savory soup or stew that's featured in many Provencal recipes.
Most of these recipes agree that bouillabaisse must include at least three kinds of local fish, such as the spotted weever, the tub gurnard, the European conger, the red scorpionfish and one or two noble fish such as the John Dory or the burbot.
In Marseilles, bouillabaisse is served in a very specific manner: you get the fish broth with some rouille (spicy fish-flavored Provencal sauce) on croutons or bread, and the fish which is sautéed in olive oil with more rouille on a separate plate.
The fish dish is often paired with white wine, but Provence is actually known for its unique Rosé wines. Learn more about the region's wines and the annual grape harvest here.
Provence Dishes and Ingredients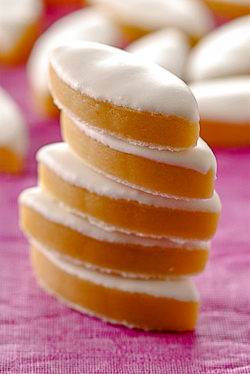 Calissons d'Aix en Provence
Although Marseille and bouillabaisse might be the most famous example of Provencal cuisine, almost every city in Provence is actually associated with a specific ingredient or dish.
For example, the city of Menton is associated with lemons, and even holds an annual festival to celebrate the fruit! The city of Nice (technically part of the French Riviera) lends its name to Salade Nicoise, which roughly translates to "salad of Nice".
Aix en Provence is famous for something with a sweeter nature: the Calissons d'Aix. Calissons are cookie-like sweets that are shape like a petal and consist of a firm paste topped with icing. The paste is made from ground almonds combined with candied fruit, and this is topped with white icing, producing very sweet and fresh candies.
What all these dishes have in common is that they feature many ingredients that are native to Provence. In fact, ingredients such as garlic and olives are omnipresent in most dishes.
Aioli, for example, is another Provencal sauce that, like mayonnaise, is an egg-based emulsion flavored with garlic and olive oil. It traditionally accompanies boiled vegetables, boiled fish (normally cod) and boiled eggs, and is savored during various summer celebrations.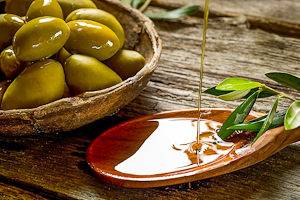 Olives and olive oil are important ingredients in Provencal meals

Olives are an indispensable component of the popular tapenade, in which you find them finely chopped and mixed with capers, anchovies and olive oil. Tapenade can be used either as a spread or a condiment, and no Provencal meal is complete without it.
Together with herbs such as lavender, basil, rosemary and thyme, you will see olive trees in gardens across Provence. Moreover, because of the proximity to the Mediterranean Sea, all kinds of fresh fish are used in many dishes. Lastly, the mild climate allows many fruits and vegetables to grow throughout the year, and in summer there is an absolute abundance of fresh produce. A meal that makes good use of this is the hearty soupe au pistou. Consisting of various summer vegetables, beans, pasta and, of course, pistou (a French version of the Italian pesto), it is sometimes topped off with some grated cheese and always thoroughly enjoyed.

Create Your Own Provencal Dinner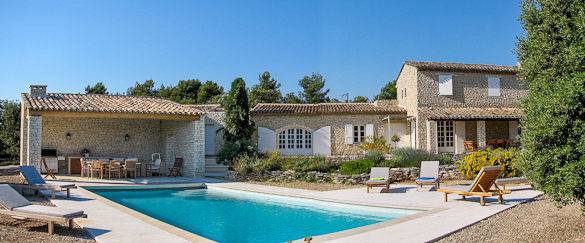 French dinners at the outdoor dining table of this country house in Goult, Provence
A great way to have fun exploring Provence's local produce and dishes is to stay in a
Provence vacation rental apartment
where you have access to a kitchen! You can experiment and try to recreate some of the most famous dishes, as the aforementioned ingredients can be found all around in Provence. Of course, don't forget to have a glass of refreshing Pastis, the anise-flavored aperitif, before you start your culinary endeavors. We have a
5-bedroom country house
available in a picturesque Provence village called Goult that is great for a vacation with family or friends since it sleeps up to 12 people. Not only does the house have a fully equipped kitchen with kitchen island, but it also features a covered outdoor patio with barbeque and a dining table overlooking the swimming pool! Here you can enjoy long and relaxed dinners with a view of the surrounding grounds.
Have you ever tried a dish from Provence?