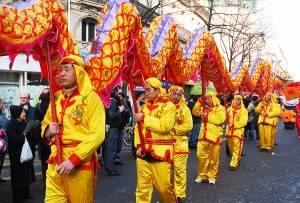 Chinese New Year in Paris
Ring in the year of the Rabbit in Paris! 
Chinese New Year is a festival not to be missed in Paris
.  For a few unforgettable days in late January and early February, the City of Light will be overrun with colorful dragons snaking their way through the streets, dancers in traditional makeup carrying parasols, merrymakers setting off firecrackers, and of course rabbits everywhere!
The epicenter of the Chinese New Year festivities is the 13th arrondissement, home to Paris's Chinatown—the largest Chinatown in Europe. Starting on January 28, the denizens of this quarter will begin their celebrations.  These include art exhibits, concerts, lectures, and a kung fu workshop for children.
The main event of the New Year celebrations is the dragon parade on Sunday February 6 at 1:30 P.M.  The parade begins and ends on Avenue d'Ivry, with a loop through Place d'Italie.  Nearly 200,000 spectators are expected to come to Chinatown that day for the sights, sounds and smells of the Far East.  With red lanterns for good luck strewn overhead, orange fish decorating every surface, the heady aromas of garlic and ginger filling the air, and the sound of gongs, laughter, and music, the dragon parade will be a feast for the senses that you simply must experience to believe.
During the parade, keep an eye out for both the women's and men's parade floats, where you can see the beautiful traditional clothing, including elaborate headdresses and vibrant colors.  Buddha, wrought in gold and placed atop an elephant statue, will be carried through the parade.  Be sure to get incense from one of Buddha's followers for good luck.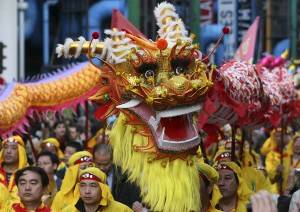 Chinese New Year Parade in Paris
No festival is complete without food.  And the Chinese food you will eat while watching the merriment of Chinese New Year in the streets of Paris will be unlike any other you have tasted.  Stop by the famous
Tang Frères grocery store
on Avenue d'Ivry to get the ingredients to try your own hand at the delicious Asian fare.  As a bonus, Tang Frères gives out free balloons for Chinese New Year.
The year of the Rabbit is said to be a year of sophistication and good taste. What better place to begin the new year of sophistication than in Paris?  Ensure your good luck for the coming year by visiting Paris for the festival of Chinese New Year.
New York Habitat has several accommodations available in the 13th arrondissement near Chinatown.  Hurry to snatch up one of these apartment rentals in Paris in time for the year of the Rabbit.
Here are a few apartments to start you on your search:
This cozy 1 Bedroom Vacation Rental – St Michel – St Germain – Notre Dame – Paris (PA-1899) is an easy walk to Place d'Italie.  It features beautiful exposed roof beams, built-in bookshelves, and an eat-in kitchen, perfect for trying your hand at some Chinese recipes.
This elegant 2 Bedroom Vacation Rental – St Michel – St Germain – Notre Dame – Paris (PA-3126) will put you in close proximity to Chinatown.  It features hardwood floors, beautiful views and a spacious living room.
What is your favorite Parisian festival?