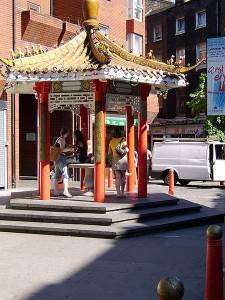 Picture of a Pagoda in Chinatown, London
With Chinese New Year around the corner, London's Chinatown is starting to prepare for the Year of the Tiger. Chinatown is centrally located just between Soho and Leicester Square and is an excellent place for a change of pace while walking through the city or for a pre- or post-theatre meal.
Chinese New Year celebrations will be taking place this year between February 14th and 21st with the main event in Trafalgar Square on the 21st. An official ceremony will take place at noon followed by a full program of performances, including music, dance, acrobatics and Chinese dragons and lions. Chinatown itself will be filled with food stalls and lion dance displays  and Shaftesbury Avenue will become 'Hong Kong in London Chinatown' with performances by local Chinese artists. Try out one of the many authentic Chinese restaurants and markets while you're in the area.
If you're looking for more general Asian fare, try Cha Cha Moon in Soho. It's an inexpensive noodle restaurant with a fantastic reputation. If you're craving a communal Thai culinary experience, head up Wardour Street, towards Bloomsbury, and look for the line outside Busaba Eathai. Diners are seated at large square tables and treated to delicious food.
While you're in the area, also be sure of check out the Soho Curzon, a swanky cinema with famed British bakery, Konditor and Cook, on the main level. There's also the Prince Charles Cinema, a moviehouse dedicated to affordable films and Sing-a-Long Sound of Music. The Soho Theatre is just up Dean Street. With its edgy new writing and late-night comedy program, it's where Londoners in the know head for the latest new show.
Fancy a pint after all that food and culture? Try French House, a busy local favorite with a Gallic tilt. If you'd like to celebrate Chinese New Year with champagne, go no further than Amuse Bouche, a charming champagne bar on Poland Street.
Public health enthusiasts should check out the John Snow Memorial on Broadwick Street. During the 1854 cholera outbreak in Soho, John Snow determined the cause of the outbreak was the use of the water pump on Broad Street. There's even a pub nearby named after Snow.
Of course you'll want to stay near the action in Chinatown and New York Habitat has many comfortable rental apartments to choose from in and around Soho. Start your search with these:
This 2-bedroom rental accommodation in Soho – London (LN-334) in a modern apartment block on Soho Square places you in the middle of the media and advertising capital.
If you're looking for something smaller, this first floor studio vacation rental accommodation in Bloomsbury-Westminster (LN-507) is located near Denmark Street, London's guitar alley, and has a lofted bed.
Have you stayed near Chinatown before or been to the Chinese New Year Events in London?