Unfortunately, the Internet is still filled with scams, so we're going to keep talking, tweeting, blogging and educating people about how not to fall victim to them. Many scams involve renting from afar, which is what we specialize in, so we figured who would be better to write on this topic than us at New York Habitat.
The Internet Age has become a time where trust is paramount in business transactions. It's a global marketplace now, where renters and travelers are booking accommodations across borders and around the world. Which is why it's more important than ever to investigate who you're dealing with a world away via the Internet.
The proliferation of rental scams on the Internet hurts everyone; from potential renters who become victims of scams, to honest property owners, brokers and agencies who find it ever more difficult to gain people's trust in legitimate rental transactions. The lack of policing of these rental scams hurts both the rental and tourism industries as a whole. Internet posting sites need to work on verifying the legitimacy of the posts on their site, if they don't find a way to do this they will eventually lose all credibility.
Here at New York Habitat we recently encountered some rental scams of our own and we're breaking down the details for you:
Example 1 –: They copy the apartment descriptions  and photos from our website but use their own email address not …@nyhabitat.com
While some initial ads may have anonymous "reply to" info, if it is truly a New York Habitat ad, once you are contacted back it should only be by someone from our staff with an email address from our domain [….@nyhabitat.com]. (TIP: If you ever see a photo with New York Habitat's copyright written on it on a site other than our own, make sure it contains our official company contact info in the body of the ad and a link to our site.)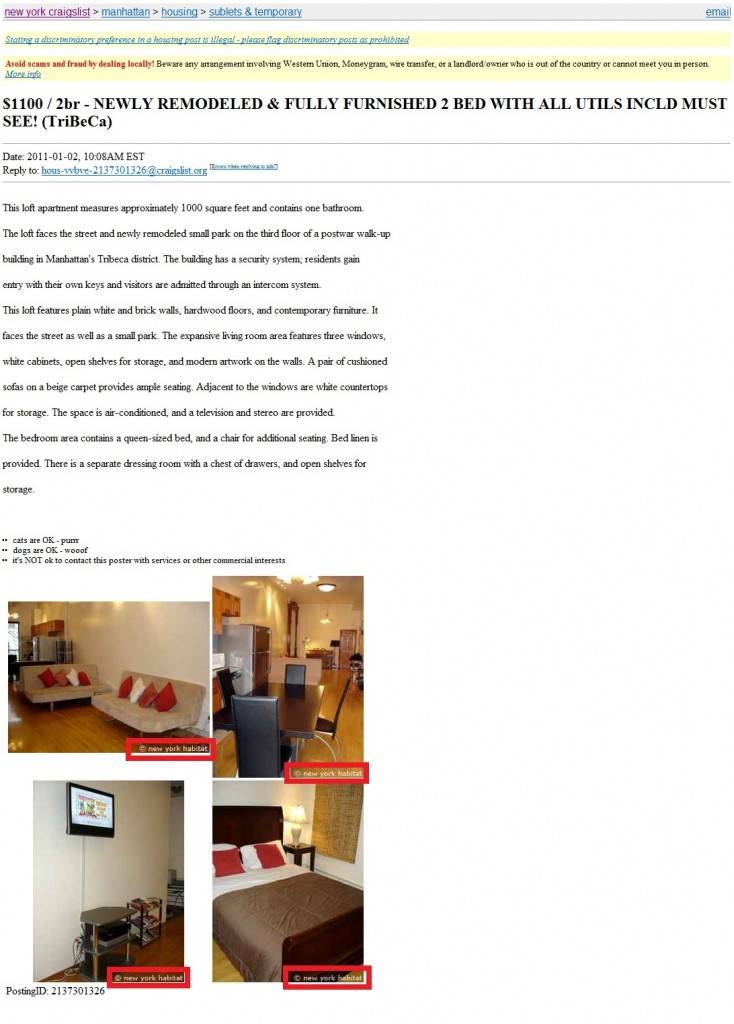 Apartment Rental Scams Example 1
Example 2 – They use nonexistent, imprecise, or business (commercial) addresses as a residential apartment address
We were alerted to a rental scam using our office address as the address of a rental property. After potential renters sent money to this scammer they received our office address on their rental documents as the address of the rental apartment and scam victims were showing up at our office ready to check-in!
The Proof: What we did as a test to see first-hand how a scammer operates:
Through a tip submitted by someone to our site, we found out our apartment pictures and descriptions were being used by someone else to bait people into sending in money.  When we found this being done we had one of our staff contact the scammer and pose as a potential renter to see what information we could get about how these scammers operate. And guess what…they proved all of our red flags to be true!
When asked a few probing questions the scammer got into long-winded stories that were far too personal and offered up way more detail than what we were asking for. He started to get into his personal life and even sent us pictures of his "family" (a bit bizarre when we're just looking to rent an apartment from him). He went on and on about how he would never scam anyone as it was against his beliefs and humanity in general!
Then he gave us a third party's info for payment, (in another state no less). And of course he wanted it done by Western Union (big red flag there). His story changed from email to email showing signs of deception, first he said he was a civil engineer, then a landscaper. He didn't give us an actual street address of the property but instead a general location with block and cross street but no building number. Another hint, the price for the apartment was unusually low. Once our staff member mentioned she'd like to make a payment he emailed her incessantly to see if it was done yet and how soon she could send the money.
Of course she never sent any money or replied to any more of his emails, but the experience and information we gained was priceless.
So there you have it, our real life encounter with a scammer. I'm happy to share it and of course I've shared it with the Internet posting site we found it on too and encouraged them to be more pro-active in the fight against Internet scams. Sharing whatever information we have is our best defense against scams.
Although it is an impossible task to police the Internet for every possible fraud and scam, at New York Habitat we always appreciate being notified of scams so we can work on finding new ways to combat and prevent them. Rental scams hurt legitimate property owners, managers, rental agencies, renters and tourists, not to mention the entire tourism and real estate industries.  That is why we encourage anyone who has been scammed or who has spotted rental scams on the Internet to share the information and get the word out by notifying the site the ad is posted on, and relaying information to friends and others out there interested in this topic via their own blogs, Facebook and Twitter accounts. This is a recurring issue we write about on our New York Habitat Blog; including these articles:
How to Spot a Rental scam from 4,000 miles away
More Tips on avoiding Apartment Rental Scams
Rental scams are also a frequent topic of conversation among friends, fans, followers and fellow travelers on New York Habitat's Facebook page  and New York Habitat's Twitter feed, so please contribute your comments, thoughts, tips and personal stories on rental scams. We can all learn something from your experiences!
What we at New York Habitat do to make our rentals secure:
At New York Habitat we research every property before accepting it, we verify ownership or leaseholder status and visit the actual property to get our own pictures. You can check out one of our Craig's List ads below.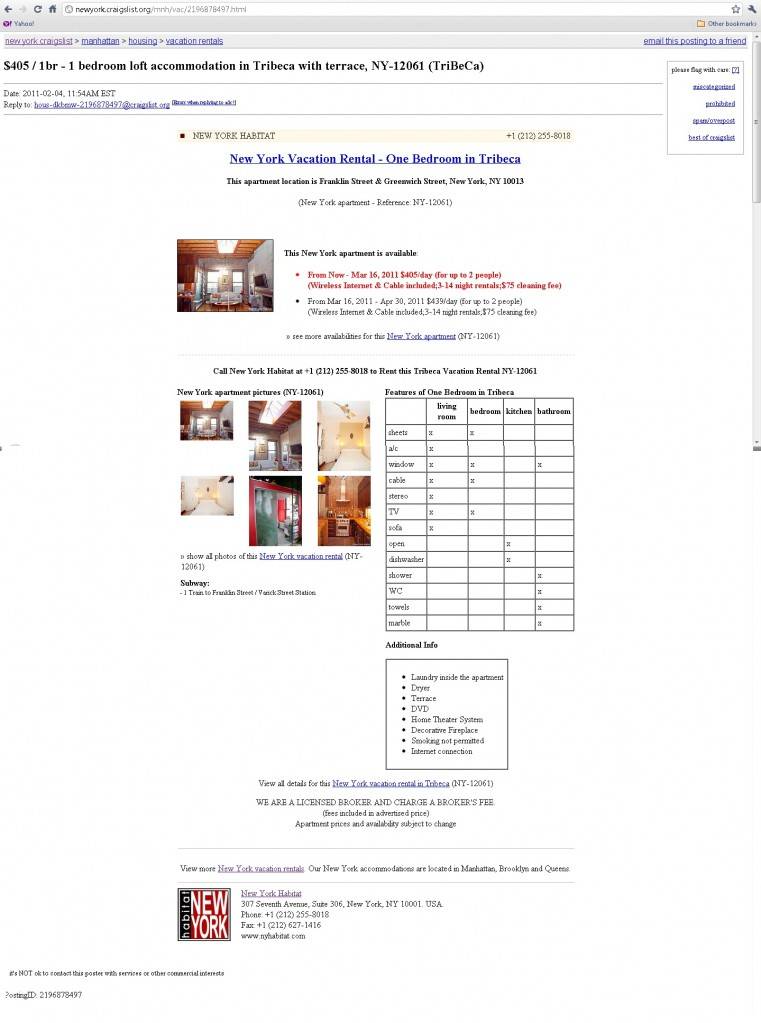 A Real New York Habitat Craig's List Ad
Remember:
You are the person who will be renting and living in this property, ask whatever questions you have and ask for any information you need in order to make sure YOU feel comfortable with the transaction. Whether you're dealing with websites, real estate companies or vacation rental portals, always ask them what they are doing to protect YOU from rental scams. You'll be surprised at what many DON'T do! Knowledge is key, know what you're risking and give your business to people and companies that do the investigative work for you and have YOUR best interests in mind.
Here's to a new year of trustworthy rentals!
Linda R. – New York Habitat Legal Department